Allison spread wide, tied - bondage photos
Free bondage photos blog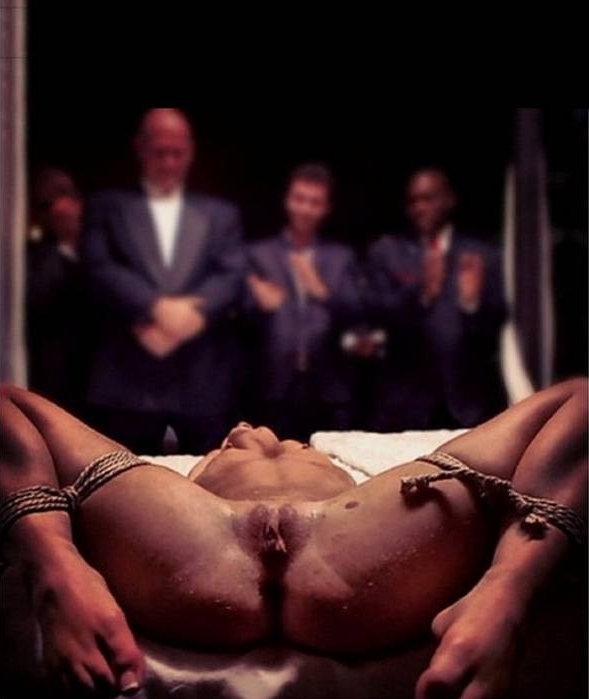 "Ladies and Gentlemen of the board, after an exhaustive and very thorough investigation I would like to present to you...The Informant!"
The curtain opened and to everyone's shock, there was Allison Simpson! The IT Director! She was the traitor! Allison was naked, on her back, with her knees bent and spread wide, tied like a displayed frog!
Her shocked eyes were wide open, as if in disbelief at what was happening to her. Her bald sex was puffy and wet, and pulsing! She was moaning and her tongue stuck up straight and firm, like an erection, and wiggled pathetically.
The poor woman appeared to be right on the verge of a powerful orgasm, but, as the Board members were told, she had been held exactly that way ALL DAY LONG! And thanks to injections of the company's secret new drug, she will CONTINUE to live like that for a long time! A very long time!
The board members, male and female alike, recovered from their initial shock and erupted in applause. Many pairs of knees became weak with lust as they viewed the luscious Mrs. Simpson, and heard her fate. She had already been reported as 'missing' to the police and her grieving husband.
bondage sex
humilation
punishment
slavegirl
vibrator
Similar bondage
Preparing the meal
Josephine at play
NEVER pay the ransom!
The captured Numian princess
Its a Celebration
Sometimes fantasies should remain fantasie
The captured Amazon warrior