Bittersweet bondage therapy 11
Free bondage photos blog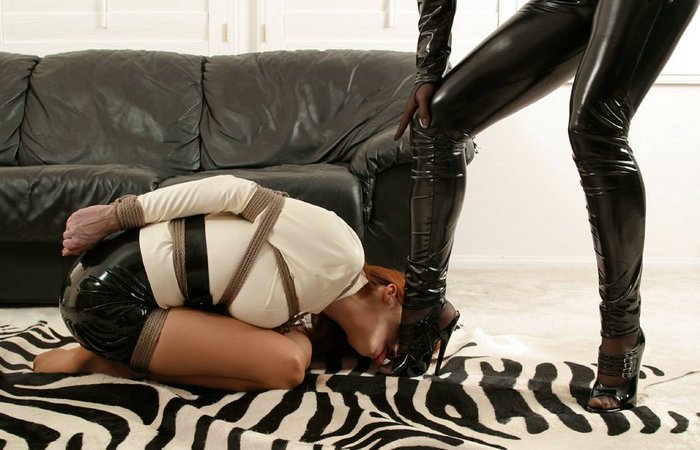 Christina had Emily change back into the outfit she had teased her all afternoon in and then she grabbed a bunch of rope and tied her up. Once she was satisfied the the doctor wasn't going anywhere, she went upstairs and changed into something she felt was a little more appropriate.

When Emily saw her in the catsuit and corset, she basically melted into her arms. Christina stood over her and Emily put her head up again her crotch. Christina pulled her head back and looked into her eyes.

'You are a little subbie girl, aren't you?'

'Yes.'

'Yes, what?'

'Yes, Mistress.' Emily said, burying her face into Christina's crotch.
Christina allowed her to suck on her for about a minute and then pulled her back.

'I think you should be sucking on my feet.'

'Yes, Mistress.' Emily said, bending over and licking Christina's shoes.

'Now turn around for me.' Christina ordered smiling. 'I want to get a good look at you.'

'I can't - '

'Yes you can. That's right, struggle for me.

Christina came around the other side and pulled Emily's into her.

'Is it tight?'

'Oh yes, it's tight.'
'I think something is missing though.' Christina said, pulling out the ball gag. 'Open wide.'

'N-' Emily started, but the sound was cut off as the large ball slid into her mouth.'

Christina laid back on the couch and smiled. 'Now struggle. Struggle for me.'

Emily's body melted at the sound of Christina's command. She began to pull at the bonds holding her and in response, Christina put her hand in between her legs.

Emily understood the effect her struggles were having on Christna - she was also incredibly excited by the idea of Christina being turned on by her fervent struggles.

Christina laid back and began to stroke herself harder. She also understood the feelings that Emily was having. The ropes encircling her, holding her so wonderfully captive - She moaned as the orgasm flood over her.

Then she joined Emily on the floor, her hands instantly all over her body. Emily continued to struggle her excitement growing to feverish limits - Christina's hand moved between Emily's legs. She was sopping wet.

Emily pushed against her hand struggling for climax. But Christina's wasn't allowing that.

Just as she sensed Emily was about to come, she pulled her hand away...

'No... not yet. You need a little therapy first...'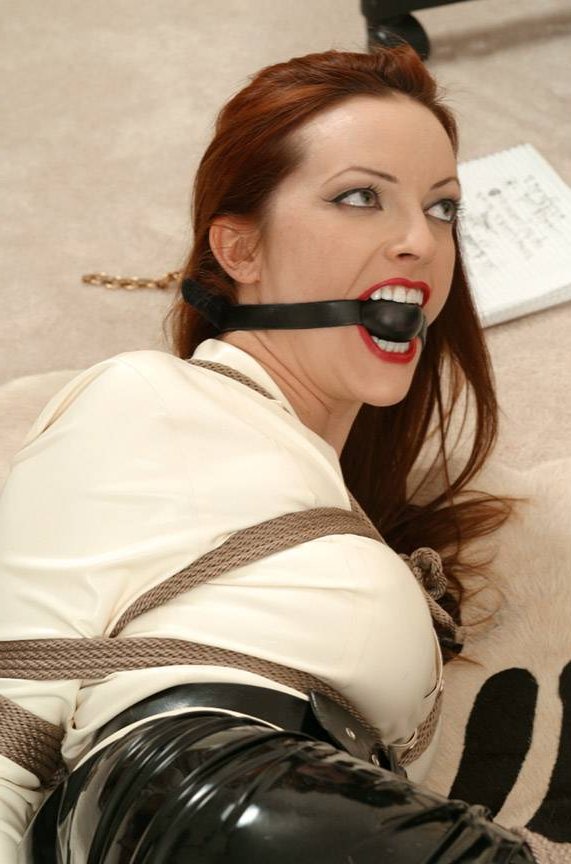 bondage stories
femdom
lesbian bondage
redhead bondage
gagged
elbows bondage
Similar bondage
The keeper - illustrated bondage story, part 17
The keeper - illustrated bondage story, part 16
The keeper - illustrated bondage story, part 15
The keeper - illustrated bondage story, part 14
The keeper - illustrated bondage story, part 13
The keeper - illustrated bondage story, part 12
The keeper - illustrated bondage story, part 11
The keeper - illustrated bondage story, part 10