Naked slave handcuffed to the rail - bondage photos
Free bondage photos blog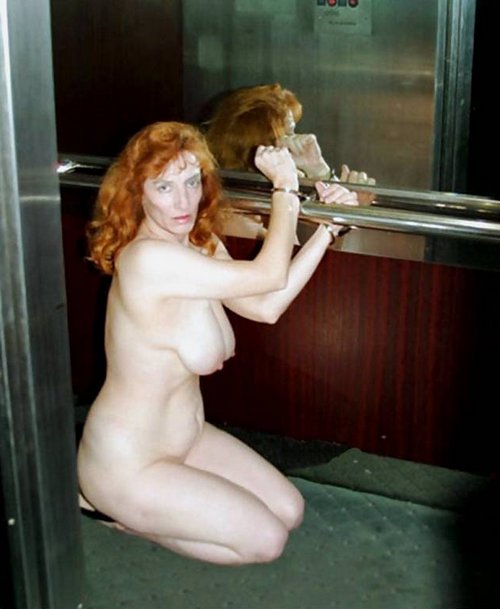 Handcuffed to the rail, Mrs. Ferguson waits in terror to be auctioned off to help pay for her husband's debt. That bastard was already out of the country with his 20-year old girlfriend, enjoying the money he had swindled. Kathy never believed that she could wind up this way. Her life was supposed to be so nice and comfortable. Instead she would be a slave... a naked slave to whoever bid the most for her. What could be worse than this?
It actually did get worse than this. Much worse!
The winning bidders for 38-year old Mrs. Ferguson turned out to be a group of three 19-year old brats who had given her daughter a bad time at the local college till she had reported the girls to the police. They pooled their money together and giggled in spiteful glee when they won the bid! They would keep Kathy naked, and pluck her pussy bald. They would take her to parties and make her perform for their equally snotty friends. She would spread her legs and play with herself and beg their laughing friends to fuck her, or to allow her to have an orgasm. She would shake her tits and slap her own ass, hard, till she cried from pain and shame. Nothing in her whole life could have prepared her for this level of degradation and shame. Every once in a while she would think of her husband Bill with his young girlfriend, living a good life and fucking like rabbits and she would tear up and sob at what had become her own fate.
Her young owners were not just mean and spiteful. They were using her naked body to learn how to become experts at the craft of humiliation. They would learn very quickly how to extract every ounce of despair and shame from a naked slave. And oh, how she would beg and cry, day and night, while they laughed at her.
handcuffs
redhead bondage
slavegirl
Similar bondage
Her butt plug inflated and vibrator set on low
Identical latex suits and gags
Abandoned in the woods
Catsuit and cuffs for teaching her manners
That's not my wife!
Little cutie cuffed to a set of bicycle racks
Naked slave shopping