Gyaku Ebi (Reverse Shrimp - Asian Style Hogtie)
articles and tutorials
shibari and Japanese Bondage
Traditional Japanese rope bondage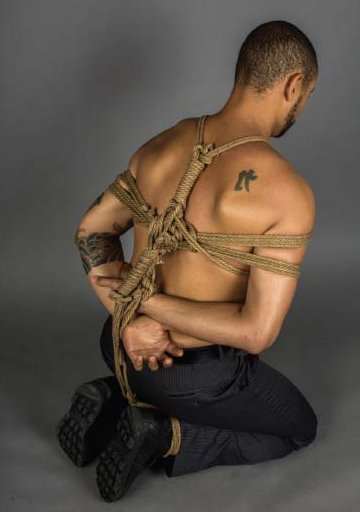 The Gyaku Ebi, also known as the Reverse Shrimp Tie or Asian Style Hogtie, is an incredibly versatile form of bondage. Unlike the "Western" hogtie— which binds the wrists together, then attaches the ankles to the bound wrists —the pull of the ankles does not risk the chance of dislocating your Bottom's wrists. All of the tension lies across the chest harness, a much wider area for the distribution of pressure.
When you tie a Gyaku Ebi, you can choose to have the hands tied first, as in the Box Tie, or bound after the chest harness is tied. The second option alleviates stress on the arms that may be caused by the pull of the legs on the chest harness. If someone has a larger frame or cleavage, consider using pillows to prop up the other parts of them to help them breathe with more ease.
In these images, the person on his knees had to focus on his balance to stay upright. Gyaku Ebi is intended predominantly for an individual on his belly or sides, and the Bottom should not be expected to stay upright for extended periods. As with all bondage, no one in a tie like this (upright or on the belly) should be left alone.
Bind upper body.
Restrain the upper body and hands. The Box Tie.
Tie the ankles together.
The One-Column Tie is a good option, though the Two-Column Tie is also a valid choice. Sexual play can be explored by having each ankle tied separately to the chest harness.
Attach ankles to chest harness.
Run the ends from the ankle tie underneath all of the torso wraps.
Create pulley system.
Run the ends from the chest harness back down to the loop from the One-Column Tie. Using the bight, create a pulley system that helps move the rope more quickly and easily. Every Bottom has a different amount of flexibility and tension they can endure. Check in with them as you cinch down to make sure you do not hurt their knees or chest, or impair their ability to breathe.
Tie off.
Use an overhand or square knot to tether the cinched ropes in place.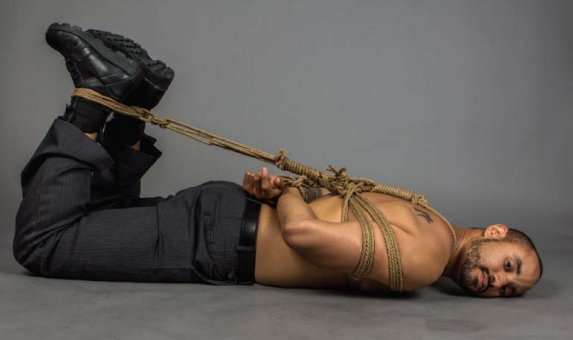 Wrap a whole lot.
In this variation, use up your extra rope by wrapping a lot around the series of lines that ran from the ankles to the chest. Split the bundle of lines apart and tuck the ends between those lines to keep it from unraveling. This tie can be challenging on the neck. Leave enough wiggle room so that your partner can get their head from side to side. For longer scenes, a pillow is also a kindness to the body.