Ebi or Kuri (Shrimp or Ball Tie)
articles and tutorials
shibari and Japanese Bondage
Traditional Japanese rope bondage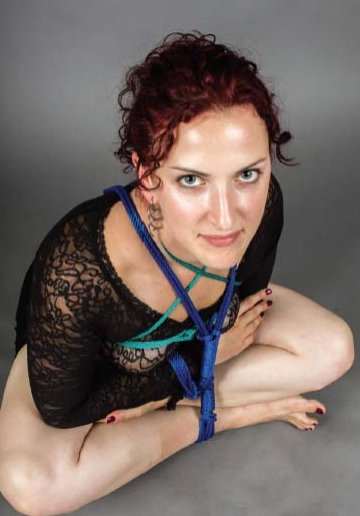 The Shrimp or Ball Tie (also known as Kuri which translates as "chestnut") starts with the Bottom sitting cross-legged, though more flexible Bottoms can sit in lotus position. After the chest is attached to the ankles, it is possible (as shown) to lower the Bottom onto her back or side. Please remember to support the Bottom's upper body and head as you change her position; tipping her over without support may lead to head or shoulder trauma.
This pose was originally designed as a torture position because of the breathing challenges created by diaphragm pressure. It is hard to get a full breath of air when in Ebi. Because of this chance of positional asphyxia, make sure to keep an eye on your partner in this position, and be ready to release them when needed.
One of the great things about this position is that you can modify it so easily for a variety of body types. Instead of wrapping around the back of the neck, you can pull down taking the line through the chest harness. You can pull down just to the comfort of your Bottom. The choice is also there to make the tie tight and extreme. Experiment, and have fun!
Tie a chest harness.
In this case, I chose to use a Halter Top Harness. The more classical Ebi begins with a Box Tie, and thus skips steps 2 and 3.
Tie both wrists in front.
Fingertips to elbow on each side, folded in front of the chest, bind the arms using a Two-Column Tie.
Attach the wrists to the chest harness.
Wrap the long end of the leftover line around the center of the chest harness, then bring the lines in back to tie off.
Bind both ankles.
Have the Bottom fold her ankles in front of her, sitting cross-legged. Then, tie the two ankles as if they were a single column, with all the knots above the ankles.
Wrap around the back of the neck.
If you choose to have the Ebi tie tuck underneath the chest harness in front, it avoids pressure on the neck. This changes the type of breathing compression and difficulty.
Make a lark's head.
Tuck the ends through the bight from the one-column tie.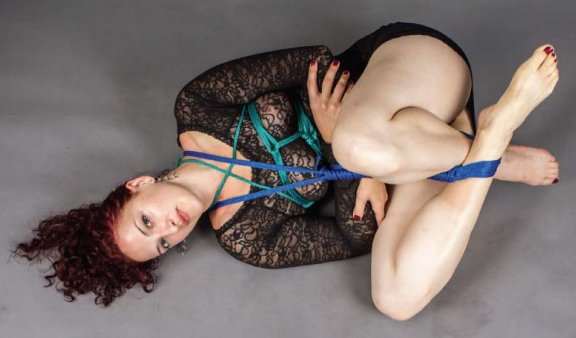 Cinch down chest to ankles.
Pull the chest towards the ankles by putting tension on the lark's head. Then, tie off with an overhand knot. Now, you could either just sit back and enjoy, or, supporting both the head and the body of the Bottom, tip her on her side to expose her for your amusement (or to adjust tension on her body). Adding pillows under her legs, shoulder and neck can also affect body comfort. Some find these changes in tension and pose will allow them to stay bound for longer.