Kani (Crab) and Niwatori (Little Chicken)
articles and tutorials
shibari and Japanese Bondage
Traditional Japanese rope bondage
A classical application of the Two-Column Tie, the Kani pose has two basic positions for the Bottom to be in: on their knees or sitting down with their legs in front of them. Other options—having the Bottom lay on his back, side or stomach—are all just variations of these first two ideas. The pose can be modified for those whose ankles do not touch their thighs by using a Spread Two-Column variation.
The "Little Chicken" pose is created by attaching the wrist to the upper arm, using the same tie. Try tying the knots on the back side of the arm to avoid the chance of the Bottom untying the ropework with their teeth. With Niwatori, arms can also be bound in front of the body, or behind the back, using the loose ends of the two-column ties to lash the arms into place.
Be careful of the sensitive skin at the back of the knees and elbows! As you push the rope through, make sure your nails don't catch the skin and that the line is pulled slowly. The inside of the knee and elbow are a horrible place for rope burn.
Kani kneeling.
Niwatori in front.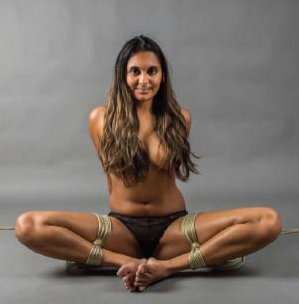 Kani with knees spread.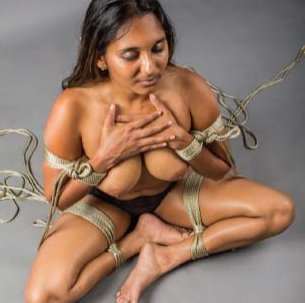 Niwatori bound back.