Stocking-clad legs and stiletto heels strappado
Free bondage photos blog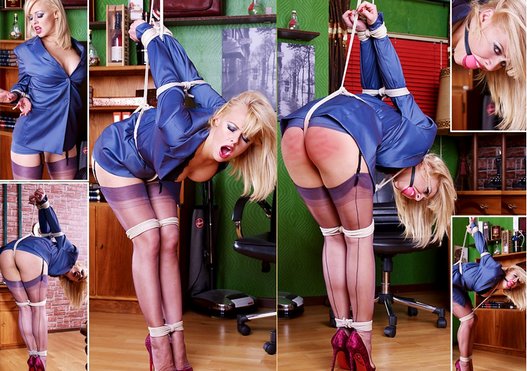 Returning from lunch, the office girls burst into loud catcalls once they saw the blonde dangling from the ceiling in a strict strappado, "What'd you do this time, silly bitch?" they chortled.
"It's not my fault!" Hayley mewled, her tightly-bound, stocking-clad legs trembling as she wobbled on stiletto heels. "I didn't realize I'd deleted the wrong folder!"
"That's two weeks of your hard work, ladies," Mister Hardash entered the room carrying a steel ruler. "So, while we try to recover that file folder on the share—''
The women lined up behind Hayley's pale, exposed ass, spanking her so hard with the ruler that they had to muffle her cries with a gag.
All the while, sobbing Hayley climaxed on her crotch rope.
strappado
high heels bondage
ball-gag
stockings
crotchrope
Similar bondage
Another victory for the Champ
Baron Reugger's revenge on the women in the castle
She can't get enough degradation. Spread tied up outside
Latex strappado reflections
Okay, now what?
The keeper - illustrated bondage story, part 51
Strappado duo, vintage bondage