Super secret spanking initiation ceremony - bondage photos
Free bondage photos blog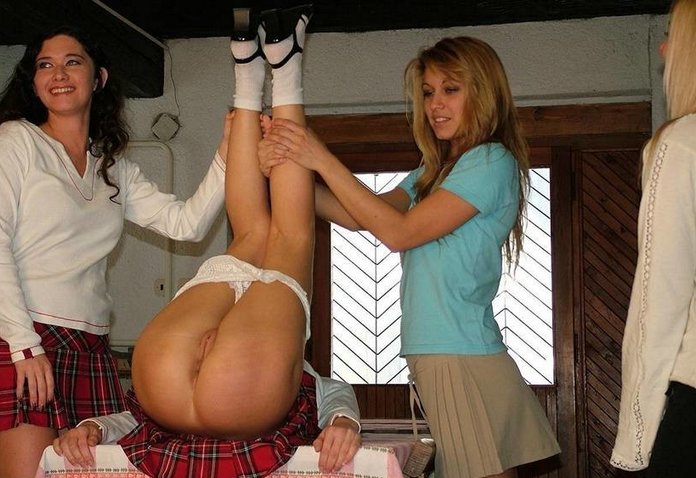 At the 'super secret initiation ceremony into Kappa Sigma sorority, the pledge master leads candidate Stephanie Sawyer into the recreation room, crawling on her hands and knees while the sisters taunt her and cheer. Stephanie is wearing the required short plaid skirt of the sorority and is ordered to lie down on her back for her initiation paddling.
After her legs are lifted she is blindfolded and her white panties are rolled up to her knees, exposing her vulnerable naked ass to its doom.
Now comes the hilarious little 'twist' in this particular initiation. Stephanie's long time high school rival, Dawn Morgan, has been contacted and she quickly enters the rec room and walks up to the table. Without anyone announcing her presence, Dawn grabs hold of the hapless Stephanie's ankles and proceeds to spank her exposed ass, very long and hard, till her rival begins to sob and beg for the enjoyment of the sisters. After 200 hard slaps, first with Dawn's palm, then a hairbrush, and finally the wicked pledge paddle, the pledge master announces to everybody in the room that Stephanie had been 'blackballed' in the secret vote and will therefore NOT become a sister of Kappa Sigma!
Stephanie's blindfold is removed and the sobbing reject gets her first look at her spanker... the widely grinning and now laughing Dawn... the girl she would be most humiliated to have there to witness her shame!
It gets even worse when Dawn is given a digital copy of the entire 'non-initiation', and is handed the leash that is still around the shocked and sobbing Stephanie's neck. Stephanie didn't know it, but she was such an asshole during her pledging period that the vengeful sisters took the time to locate Dawn and bring her to the ceremony. Now Dawn leads her former rival back out of the room, still crawling but this time without panties or skirt, to the trunk of Dawn's car. Dawn now owns the video which she will happily share with everybody Stephanie knows unless her humiliated rival obeys her every command. And Dawn's commands will be constant, cruel, and deeply humiliating... oh and they will also be recorded to be used as additional blackmail. Dawn now owns Stephanie's ass, and boy is she ever going to have fun punishing it!
spanking
femdom
humilation
punishment
Similar bondage
Giving herself away in slavery
Poor Mrs Miller in stocks
George and Lenny
No third warning
Smile with each camera click
She was warned
A Year In The Life
Addiction