Addiction - bondage photos
Free bondage photos blog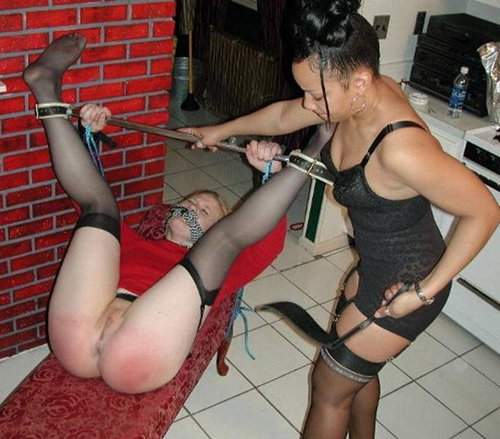 Thirty year old Anna had a great education and a good job, but she went through money so quickly that her parents and friends were actually worried that she might have a drug problem. She had an addiction, all right. She was addicted to a 21-year old black prostitute that she paid to tease her and whip her bare ass in shameful positions.
She started going to Jasmine several months ago, at $500 bucks a session, once per week. Anna quickly got 'hooked' on the humiliation and upped it to twice a week, tipping for more and more outrageously humiliating whipping positions, and spitefully meaner teasing.
Totally addicted, she blew through her savings and upped it again to every other day. Her ass would still be red from the last session as Jasmine would be smacking it again, haughtily laughing at Anna as she begged from the intense teasing of her needy, plucked pussy, and even her assholel
Anna begged Jasmine to debase her every day but she ran out of money. She eventually signed documents that would virtually enslave her to Jasmine on the express condition that she be abused daily... even harsher than before! Anna was pathetically and hopelessly addicted by now.
It is only a matter of days now before everyone that Anna ever knew will learn exactly what her addiction is, and some of them will even get to participate in her 'sessions'. Mostly the people who despised her anyway, and would have gladly abused her like that for free, just for the pleasure of laughing at her!
punishment
whipped
spanking
femdom
gagged
cleave gagged
stockings
Similar bondage
Saved from a quick death
A tale of two incredibly cruel punishments
Bullying the maid
Stripped naked and mounted on a dildo
Missing Curfew
Frequently strip-searched
Allison spread wide, tied
Preparing the meal