Schoolgirl punished outside by the butler - bondage photos
Free bondage photos blog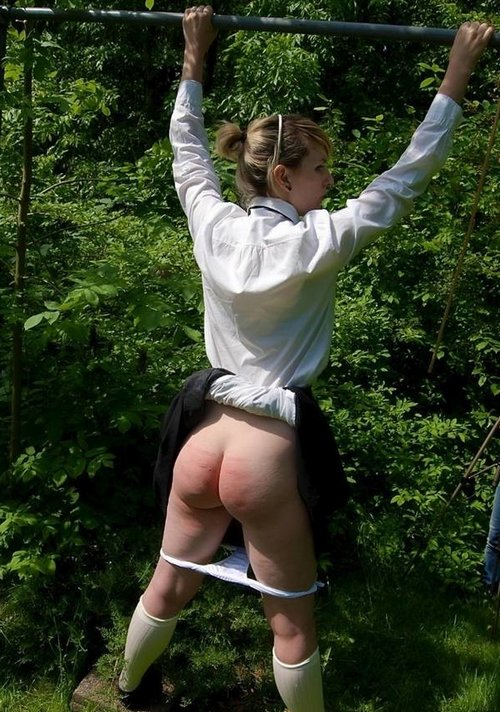 Livvy was caught being 'lazy' for the second time this month. The butler has brought her outside to be punished. She must hold onto the overhead pole as her dress is raised and tucked, and her panties lowered to 'half mast.
The butler seems to have it in for Livvy. He gives her 'twelve of the best' with a whippy cane and warns her that if she lets go of the pole she will be tied to it and given another twelve whacks.
Livvy sobs in pain and also in shame, because they are outside and she can feel the eyes of her fellow servants burning into her nakedness, and even hear the snickering of the Master's children, as they watch from the windows.
The butler tells Livvy that if she misbehaves a third time this month, she will indeed be tied to the pole, horizontally, but this time stripped stark naked and whipped fifty times while Cook twirls her on the pole like a skinned rabbit over a fire! My God! It's only May 15th, and the butler really does have it in for her! The spectators hear all of this and can't wait! They will do whatever they can to get her into trouble again!
spanking
whipped
punishment
schoolgirl
Similar bondage
Giving herself away in slavery
Poor Mrs Miller in stocks
George and Lenny
No third warning
Smile with each camera click
She was warned
A Year In The Life
Addiction