Serving her secretary in metal stocks - bondage photos
Free bondage photos blog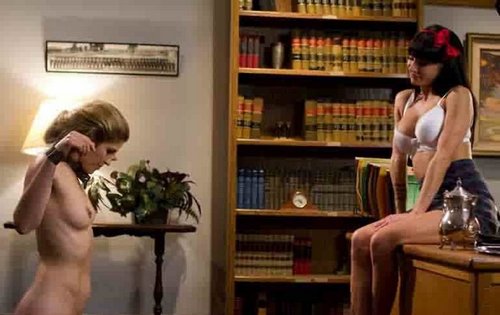 Ambitious and arrogant, Associate Attorney Elizabeth Nolan insisted that her new secretary always refer to her as Ms. Nolan, even when they were alone, while she would refer to her secretary as 'Barbie'. About six months after Barbara was hired, she managed to dig up some dirt on Ms. Nolan that would not only get her fired, but most likely arrested and serving some time wearing 'Orange' in the penitentiary!
Now, Barbara is referred to as 'Ms. Caputo' in public, and 'Mistress' in private or whenever Barbara is feeling mean, while Ms. Nolan's new 'pet' name is 'Lizzy', a nickname that the pretentious Ms. Nolan has always despised.. Hahahaha!
Lizzy now spends an awful lot of time naked, helplessly aroused, and even shackled! Her ass is almost always hot pink with red handprints! Lizzy spends a lot of her after-work and weekend time shivering and begging in need, licking her Mistress, and wishing that she had treated Ms. Caputo much better when she'd had the opportunity.
stocks
lesbian bondage
femdom
humilation
slavegirl
Similar bondage
Latex main in metal stocks
Poor Mrs Miller in stocks
Captured while home alone
Punished for stealing
First trip since the fall
Lady Morgan in stocks
Do you want to take her place
A tasty presentation