Self bondage stories, gagged rope tied story, self bondage in bra.
A Stable Mess - free self bondage story
... Happy, she then formed the last part of her bondage that night out of another piece of rope. A close nit set of loops that she could just barely squeeze her hands though, which she did after first placing them behind her back. One more loop of rope, already in place, could then be pulled tight, making the loops about her wrists nice and snug ...
Alone - free self bondage story
... Next came a thick dildo. Even well greased, it took a few moments for me to accommodate its size and slide it entirely inside me. Unlike the plug in my ass, this would slide out if left alone. I took two small snap clips and attached them from a ring on the base of the dildo to the silver ring in each of my pussy lips. The clips help the shaft inside me while pulling my lips tightly around its thick base, making me even more aware of its presence. I took the wires that trailed from the end of both plugs and tucked them into my belt for now ...
Helpless Helen - free self bondage story
... Tied in this manner, the legs are like a big knob and can only be moved about the waist. Several strands of rope just below the bra and several more about my waist were tightened so that my arms could just barely be squeezed into them, but before doing so a ball gag (white of course) stretched my jaw and was tightly knotted at the back of my neck. The final touch was securing the wrists. One end of a short braided nylon rope was tied to the rope around my ankles and the other was made into two concentric loops with a slip knot ...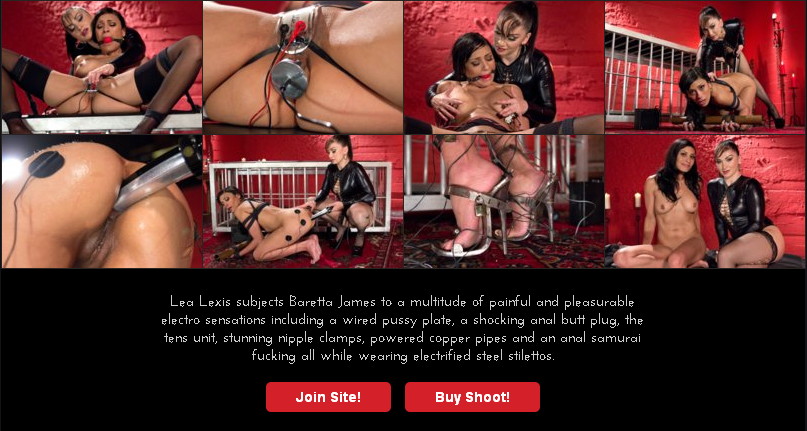 Karen's True Story - free self bondage story
... I took about 12 feet of the cotton rope and made a loop at one end only big enough to feed the rope through the hole. I then wrapped the rope around below my tits and threaded the other end without the loop through the loop and tightened the simple knot by pulling the opposite direction of the rope. I made another wrapping below my breasts and then still going under my armpits wrapped the rope around my upper torso just above my breasts. I was already feeling the tightness in my chest and breathing was now a little strain. I looped for the bottom of my breasts again but this time I wrapped the rope around the bottom 2 ropes and took the still loose end and wrapped it around the top rope ...
Gina's Flight into Reality - free self bondage story
... With all her thoughts in order Gina tied her ankles together with the short length of rope. She placed the gag firmly in her mouth and slipped her wrists into the cuffs. She tested the cuffs a few times and took a few deep breaths. Finally she lowered the blindfold over her eyes. She stood for a second, her naked body reflecting the sunlight. She then bent her knees until the rope pulled tight ...
Tina's Self Bondage - free self bondage story
... Finally I cuffed my hands in front. Now I was completely stuck. I was chained to a ring in the floor and had a vibrator in my pussy I couldn't remove or turn off. The vibrator I had chosen was about seven inches long and over one inch in diameter at the base. It had pea-sized bumps along its length. Quite by accident, the way I had glued the ring on and inserted it, one of the bumps was positioned right against my clitoris ...
Terri's Trip to the Mall - free self bondage story
... I got undressed and removed the latex panties... very wet no less .. and first pulled on my boots. They were cool to the touch.. and the heels felt great.. it would be a slow walk in these and the thigh hobbles. Next came the leather posture collar and ball gag. Both were locked on and these keys were placed on my bed. The ball gag was red and smaller in size than I usually use but this allowed the ball to fit deeper into my mouth and hopefully out of sight. The collar was also black and had a D-ring attached to the front ...
Hogtied Ann - free self bondage story
... Now I am kneeling. I search my large paddle lock for wrist cuffs beside me an click on. Then I close the handcuff which secures my bondage. Two hogtied chains successfully connect my ankles cuffs and handcuff. Now I am completely bound, gagged, blindfolded, hogtied, kneeling. I test my hogtied chains, they are very effected ...
AN AFTERNOON AT THE PARK - free self bondage story
... and clipped a nipple clamp to each of my nipples, shuddering with pleasure at the sharp pain. The clamps were tight for I did not want them pulling off. They were attached to each other with a short chain which in turn was attached to a cord that I tied around a root directly between my legs. Now I was unable to stand. The last thing to do, I did quickly while I still had the nerve. I picked up the last lock, and, reaching behind me with both hands, I carefully locked my wrists together. This lock was opened by the key attached to the rope ...
Homeward Bound - free self bondage story
... There I tied my ankles and knees securely. Then I wound some cord around my waist and between my legs. Fastened front and back to my waist rope, this cord became an effective crotch rope, teasing my clitoris and labia. Not to mention my vaginal and anal crevices. Then I slid a belt down around my upper arms and fastened it as tight as I could. Finally, after looping the handcuffs behind the crotch rope behind me, I locked my wrists behind me ...
Erin's Diary - free self bondage story
... This time, I actually did my bondage correctly. I moaned softly as I slowly struggled. Every movement pulled the crotch rope tighter and then released it. It was more like a teasing, not a hard grinding sensation, but soft pressure on my crotch ...
Huge strap-on cocks + intense electrical predicaments + Charley Chase's perfect tits bound tight and shocked with electricity + lesbian domination + girl/girl pussy and ass licking + multiple mind blowing orgasms = this weeks Wiredpussy update!
I did Self Bondage - free self bondage story
... Next I sat down on the bed with me sitting on my ankles, and tied a rope from my ankles up to the rope that was around my waist and pulled it tight so that my legs couldn't be straightened out to stand ...
Sally - Self-bondage - free self bondage story
... she used the other hand to pull the rope in between her legs, making sure it passed over the base of both of the dildoes, then poking it up and through the middle of her waist ropes in front. She pulled it taut, then passed it in between her legs, cinching to the waist ropes, ten times. The dildoes were now TIED in her with enough tight rope so that there was no way they could work out of her filled vagina and penetrated ass ...
Linewalk - free self bondage story
... Taking a deep breath she untied the rope from the chair holding up the weight. If she let go of the rope, she knew, the weight would pull open the blind... exposing her to anyone outside ...
Homeward Bound - free self bondage story
... and eventually removing the gag, I was made to explain everything to him. The net result was that I spent the rest of the weekend in bondage as his sex slave. Since that time I have spent many nights tied and helpless while being used and abused by him ...
Lillan Goes To The Mall - free self bondage story
... Four of the same eyelets were added to a favorite bra. Once the bra was put on I threaded a small brass padlock through the four eyelets. In this way, removing the bra without unlocking it would surely ruin the bra. After putting on the body suit three small brass padlocks were threaded through the six eyelets ...
Linda's Denial - free self bondage story
... On this occasion Linda had remained locked away for 2 weeks before she was released from her belt. Between wearing the belt and the benwa balls sending their magic constantly, she was constantly reminded of her self-imposed denial, and although very frustrating, she loved it. It didn't really turn out to be so much a punishment, but the denial she was seeking ...
Charlotte Vale has this delusion that if she suffers enough it will earn her something from Cyd Black. That is not the way it works. Maybe if he finds her pain hot enough she will get the chance to take his cock into one of her holes. If he decides he wants to see her cum then he will make it happen, but a sadist like Cyd is much more interested in making her cry.

Inside the barn he canes her to tears. He spreads her cunt with a rubber cock and slathers her clit with icy-hot. She spends some time in the great outdoors, kneeling naked on the bare ground. The rocks embedded in the dirt work their way into her shins and knees. She longs for him to come back and release her but it does not work out the way she wants. When he returns he does not bring the promise of freedom, just painful clips to pinch all over her body.