Mary Jane desert beach tied
Free bondage photos blog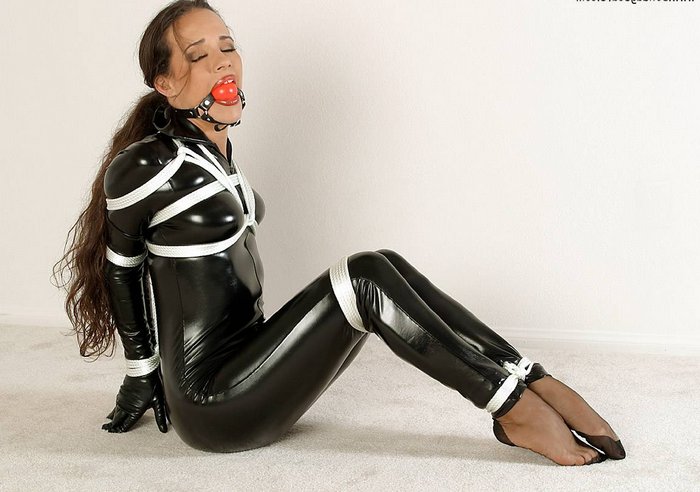 When Jenna came out to shoot the video a few weeks ago, I decided I wanted to do a catsuit scene. So we did a few cheesy pictures and went to work.
The problem was that I over did the chest ropes a bit and because we were shooting video as well as pictures, it just got to be a little too much - So, we abandoned the scene and called it a night.
Things like this happen sometimes. There will always be another day to shoot and although Jenna looked just killer and the scene was hot as hell - I was ready to scrub the whole idea.
Fast forward a couple of days. It was on my mind that I wanted the scene, so we decided to try again. I welded her arms behind her back again, but I didn't go as crazy with the chest ropes and that seemed to do the trick.
This was just as secure, but this time she was actually able to breathe - which is generally a good thing when you are trying your best to struggle... :)
The prelude to this scene was really quite hilarious. Jenna decided that she was "Catwoman". I guess it was the fact that she was slinking around the house in a black catsuit. It started getting really silly. She was moving around on all fours and jumped up on Michael's lap for a little attention.
All the while we were just laughing our asses off. Jenna is a very funny gal sometimes. We were on the phone with her the other night and we couldn't stop laughing. I think it was the fact that she had partied just a little to "hardy"... okay... you just had to be there... :)
It was at this point the first night that we had to blow the scene. I tied the crotch rope and hog tied her with it - and that was it... she was done.
Luckily, without the extra chest ropes she was able to deal with it this time...
There is nothing like watching a girls struggles pull her crotch rope tighter and tighter... :)
I went up into my office, bent over the balcony and took these pictures... I love shooting from "up on high" so to speak. It creates the perfect angles...
Too bad the crotchrope means she can't reach that ankle rope... she tried believe me...
Thanks sweetie... I just can't get enough of you...
I just have one word to say about these pictures...
OOOFA!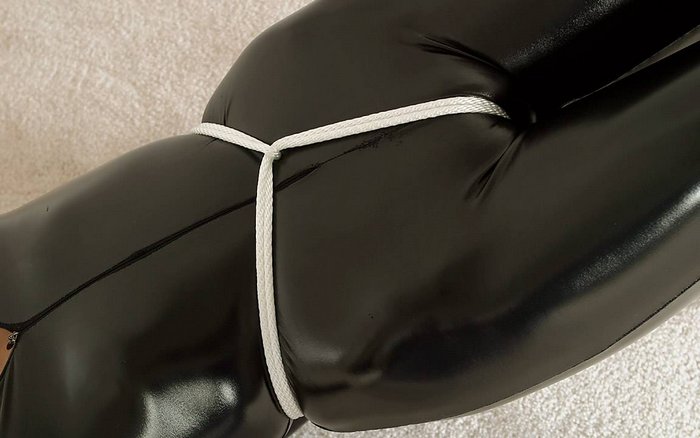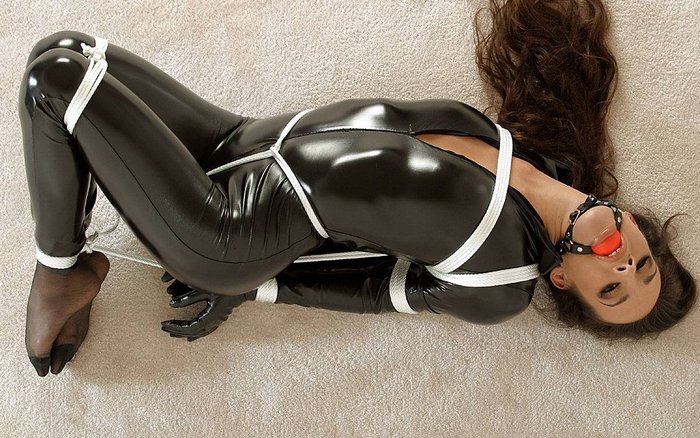 strappado
punishment
redhead bondage
leather bondage
corset
crotchrope
boots bondage
chainedharness gag
hogtied
strappado
punishment
redhead bondage
leather bondage
stockingsstockings
spread-eagled
punishment
gagged
Similar bondage
Another victory for the Champ
Baron Reugger's revenge on the women in the castle
She can't get enough degradation. Spread tied up outside
Latex strappado reflections
Okay, now what?
The keeper - illustrated bondage story, part 51
Stocking-clad legs and stiletto heels strappado
Strappado duo, vintage bondage