Pink micromini and black stockings bound and gagged
Free bondage photos blog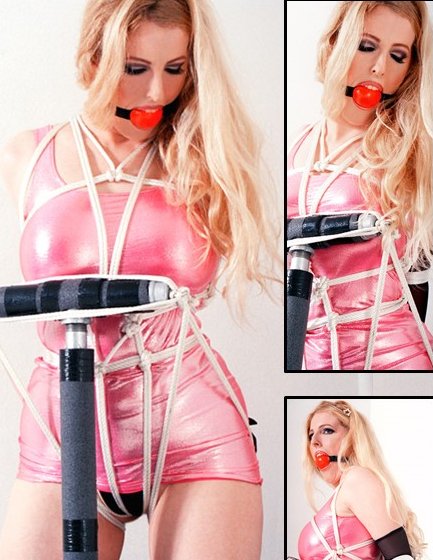 Rolling on E and totally into the electronica, Chrissie strutted into the rave rocking her pink micromini and black stockings. That attracted Raoul, who, between keeping up with the hot blonde on the dance floor and keeping her hydrated, got his tongue deep in her mouth.
And when Chrissie got woozy, he guided her to a back room, far from the pounding music. When she asked why he was winding rope around her, Raoul told her it was to hold her up.
"Good idea," Chrissie nodded dully. "But I'm thirsty again."
"Try this drool ball, sexy." He strapped the ball-gag in snugly.
With Chrissie now tightly bound and gagged, Raoul took out his cell. "Hey, vato! I just caught a hot chica blanca f lyin' on E! Get the guys over here—we gonna fuck this puta all night, man!" Chrissie moaned on Ecstasy.
ball-gag
drooling
crotchrope
blonde bondage
Similar bondage
Bondage slutty outfit
Spread-eagled in corset
Catsuit self-bondage
Bound in the torture box
Doomed
Do you want to take her place
A tasty presentation
She struggled uselessly in herself imposed prison suit