Humiliating discipline for Eighteen year student - bondage photos
Free bondage photos blog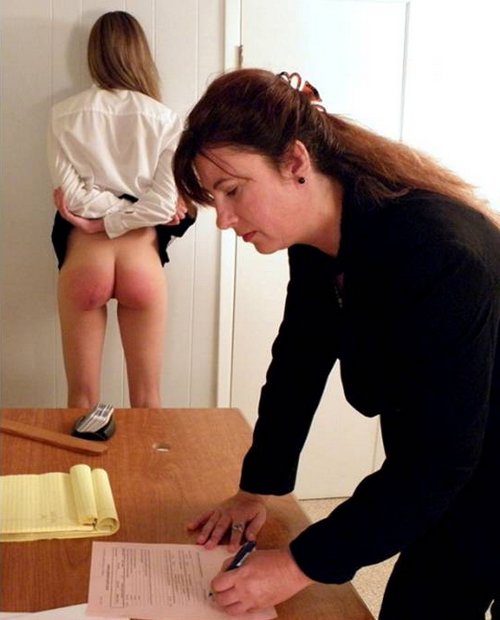 Eighteen year old Courtney had just transferred to The Bradford Institute after she had been expelled from her second college in the same year. Her parents threatened to completely disown her and leave her destitute if she was expelled from this 'last chance' school. TBI had some unique disciplinary tactics and accordingly only accepted male and female students who were over eighteen.
After just two days, Courtney was up to her old tricks again and was sent to the headmistress. She was about to learn her first lesson.
With the assistance of a male security guard, her arms were held behind her back by having her sleeves and raised school skirt safety pinned. Any attempt to tear away her arms would result in immediate expulsion. Next, her panties were yanked down and off her feet, leaving her naked below the waist.
The headmistress gave her bare bottom a 'warm-up' with a wooden ruler, then made her stand facing the wall while she signed the form authorizing her extended discipline. Courtney would be led down the halls during classes to the large auditorium where she would be brought onto the stage and made to bend across a spanking frame. A special 15-minute assembly would be called for all students, male and female, during which a sobbing Courtney would have her bare bottom thrashed no less than 100 times in front of her teachers and peers. This humiliating discipline would be repeated again the following day at the same time, with Courtney being required to attend all of her classes in the interim. Any further infractions committed by Courtney after this action would result in even harsher discipline, and eventually expulsion. The Bradford Institute had a solid reputation for correcting bad behavior in both young men and women.
humilation
spanking
schoolgirl
Similar bondage
Missing Curfew
Frequently strip-searched
Allison spread wide, tied
Preparing the meal
Entertaining her laughing audience
Cindy waits to pay the price for a favor
Julia at the window
George and Lenny