Selling herself - bondage photos
Free bondage photos blog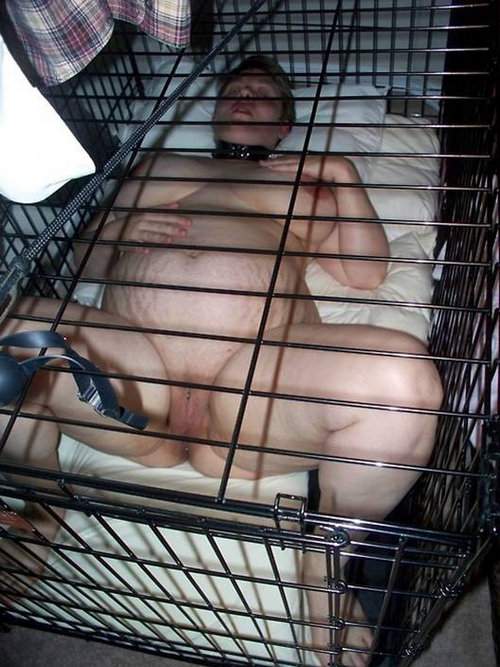 This humiliation slut sells herself to a middle-aged pervert that she met on the internet.
Twenty-nine years old, five-foot-one inches tall, and 213 pounds, humiliation slut Karen sold herself into slavery for $1.00 to a fifty-one year old pervert that she met on the internet. He had such filthy posts that Karen would cum just from reading them! He made no secret of the vile things he wanted to do with a woman... A naked woman.
After teasing her pussy all day long, and a few blow jobs, Carl makes her sleep naked in a dog cage in his living room. Karen is required to sleep on her back, with her knees up, spread, and touching the sides of the cage. Carl warned her that if he ever finds her jerking off, or her knees together, he will drag her out of her cage, paddle her bare ass hard with a hair brush, and shove her back into her cage. Carl is a fitful sleeper and wakes often during the night. The first night he dragged Karen out of her cage four times, and beat her fat ass each time! He also found pussy snot in her cunt. The bitch had definitely been 'at herself' in the night.
The next night, in tears from giving him blow jobs and licking his asshole, Karen begged Carl to tie her hands and knees to the sides of the cage before going to bed. Carl laughed at her and got some rope. Now she can't touch that starving little cunt of hers. Hahaha!
He also hung a stiff, pointy feather to the top of the cage so that it touched her fat clit. Then he opened a nearby window so the cool night breeze would keep her nipples puckered and the feather tormenting her needy clitoris, but never enough to orgasm. Her nights of cumming, except on command, were over!
By morning, Karen's teeth were chattering from both the chill and her need, and Carl laughed at her and took video of her jiggling and begging to get fucked. He threatened to post the video to her own Facebook page if she ever touched herself again without permission. Whenever Carl did giver her permission, Karen would attack her pussy with both hands, sobbing in gratitude and grunting like a tortured pig. Carl enjoyed watching her like this, so he always kept her very horny and let her amuse him this way at least once a week.
cage
collar
slavegirl
humilation
public bondage
Similar bondage
Strict new law
Monique in cage
Bound in the torture box
A warning to obey!
Ballet shoes, posture collar and corset
Beautiful former Queen hade become the sex slave to a trained pig
Kimber in cage