The little obedient rubber maid slave - bondage photos
Free bondage photos blog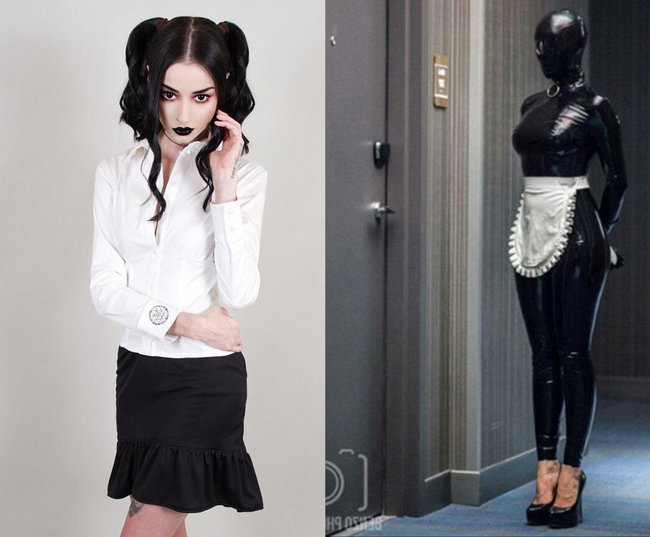 By day she's a ruthless manager in the Law firm she owns. Pushing her staff to their limits and making them work hard to earn every last penny of their commission. She insults them, humiliates them and enjoys the power she has over them by making their lives miserable as they expand her bank account with their efforts.
But by night her true self comes out in the form of a bound rubber maid, zipped up and locked inside her latex suit with plugs that zap inside her ass and pussy.
Working as the hotels maid she serves the needs of her unknowning staff that live in the same hotel, turning down their sheets, tidying and folding their belongings and being subjected to their verbal and physical torments, none the wiser of their boss being the one beneath the black latex.
To prevent her identity from being known she always keeps the key to her suit at home, however, the small GPS tracker inbedded in her collar ensures she works like the little obedient rubber maid slave she is or else.
From the moment she steps onto the premises her home computer tracks her every move, if she tries to leave early or skips a room the tracker will know and send a preprepared email to all her employees with pictures of her and what she has been doing these last few years.
To ensure she can't cheat, if she enters the next room too early she is crippled by electric shocks to ensure she works the full shift and stays in public view.
maid
collar
rubber
latex bondage
plug
Similar bondage
Latex main in metal stocks
Maid girl spread tied vibrated
Maid gagged in sluty outfit
Latex maid uniform
She struggled uselessly in herself imposed prison suit
Being rich and single has many rewards
Restrained 24/7