Girls Figure Training BDSM Academy 2
Free bondage photo blog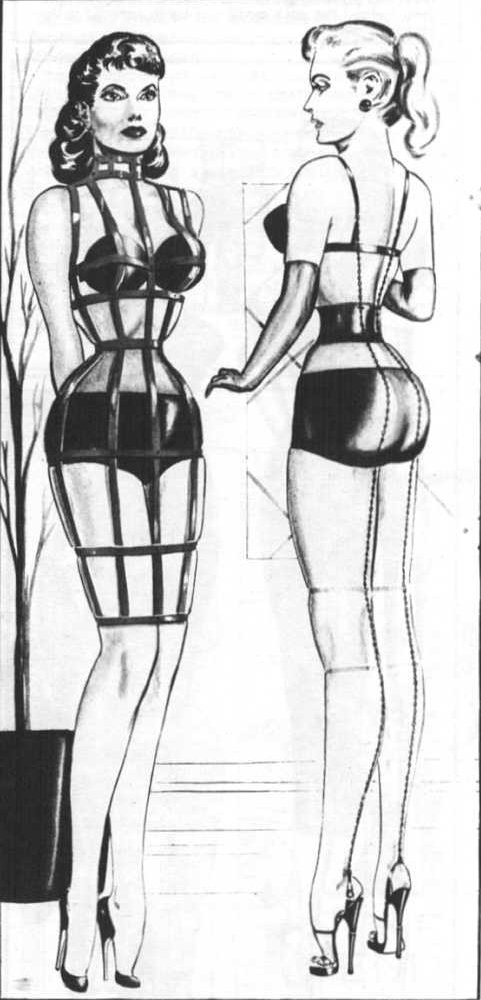 'There was a new girl there I never saw before," Hilda told Madame. "I think her name was Esme. I gave her your address because I think you'll be able to fix her in with some jobs. She was modeling ball-length gowns which covered her completely. Her body was clamped inside a beautiful steel cage affair that ran down from her throat to her ankles. It was made from strips of steel an inch wide and three inches apart and it hinged down one side, clipping together with spring locks. Long bars of steel ran across her body and down her bpdy in delicate tracery that hugged the smooth lines of her figure, continuing right to her knees, fitting tightly over her thighs to prevent her from taking large strides."
Mrs. Stringent nodded and was most interested. "Anything else interesting there?" she asked. Hilda nodded.
"Quite the most exquisite pair of shoes I ever saw. Phyllis was wearing them. They were platform soled, and the soles had been bored out into small holes which ran spring loaded rods. As she stepped down on the floor and soles touched the ground, the rods were forced upwards against the bottom of her feet, just under the instep and this made her arch her feet even higher than the stilt heels forced them up. There was another neat little idea, a small wedge of steel sewn into the shoe just under the joints of her toes, which was connected to a small battery in the heel of the shoes so that as her toes touched it. she received a sharp electric shock."
"I don't see the point of that." observed Mrs. Stringent. "If that happened, surely she would tend to rest the weight of her foot more on her instep and heel." "Of course," replied Hilda, "but you see when her foot rested on the sole, the little metal rods poked up and forced her feet away. In this way the only manner in which she could relieve both her toes and her sole was to rest her foot back on the heel and that was where the ingenuity of the shoe came in. The heel part of the shoe was mounted on a spring-controlled plunger which, as it depressed with the weight of her foot, was forced down and then dragged down with it a fine chain that ran up the back of her legs through a guide belt at her waist, and attached itself to the uplift strings of her bra. You can see what the result was"
"Most ingenious," admitted Mrs. Stringent. "So the shoes actually supplied a form of figure control as well. I must try that myself one day. But tell me. wasn't the chain visible?
"Oh no, it was most cleverly done. It passed through a small guide belt of flesh colored leather around her knees and thighs and clung so closely to her legs that it looked more like the seams of her nylons" Mrs. Stringent made a quick note of the idea in her special notebook and then made a mental note to see her shoemaker to try to get a similar pair made for herself. The idea appealed to her.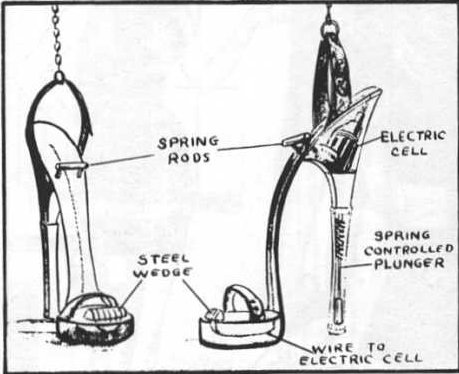 lesbian bondage
corset
high heels bondage
cage
Similar bondage
Sasha Monet and Amber Michaels bondage adventures - 16
Sasha Monet and Amber Michaels bondage adventures - 15
Sasha Monet and Amber Michaels bondage adventures - 14
Sasha Monet and Amber Michaels bondage adventures - 12
Sasha Monet and Amber Michaels bondage adventures - 11
Sasha Monet and Amber Michaels bondage adventures - 8
Sasha Monet and Amber Michaels bondage adventures - 7
Sasha Monet and Amber Michaels bondage adventures - 6