Girls Figure Training BDSM Academy 4
Free bondage photo blog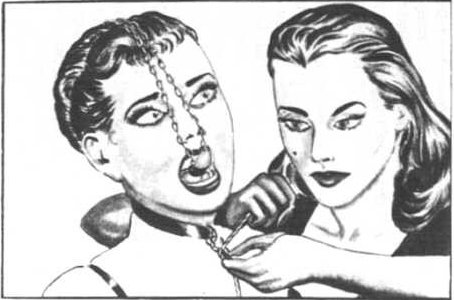 Every now and then Mrs. Stringent would reach forward and twist the knobs, closing the rollers tighter around Gloria's waist.
Finally. Glorias arms were belted together in a leather strap wound around her arms from elbow to wrist, which was dragged high over her head and strained upwards by means of an adjustable weight hanging over a pulley in the ceiling This, explained. Madame, helped to supple up her shoulder muscles.
Each time the rollers were tightened up an inch, a spray over her body cascaded her midriff and waist with liquid grease to help smooth away the unwanted flesh.
Mrs. Stringent now took Hilda across to her other pupil. June, and explained what was being done to train her. June was fast becoming an avid bondage enthusiast, and Madame was pleased with her progress. June, a dark haired girl of about twenty, was the daughter of a millionairess who wanted to see her well-poised and firmly muscled.
June's gag was not so severe as Glorias and it consisted of a piece of leather tied on to her tongue with dental floss. This leather was untreated and thus, as it became wet in her mouth, it swelled up. The end of the leather was riveted to a small metal chain that was dragged across her face and secured over her head to a small collar around her neck.
As part of her poise training, June wore a pair of shoes with ball shaped soles that made walking and balancing very difficult. To add to this, her arms were strapped rigidly behind her with thick, shiny harness straps and a rope from the wrists was dragged down between her legs and up across the front of her body to be tied in a strong knot to the collar about her slender neck.
Her waist was tightly clamped into a leather hourglass corset which was firmly laced with leather cords at the back to ensure it would not loosen.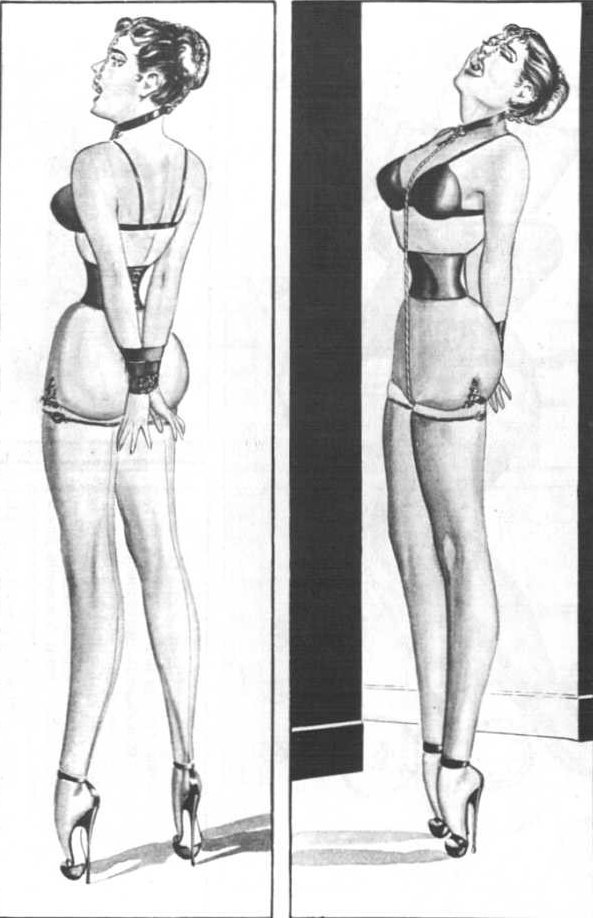 lesbian bondage
high heels bondage
bondage training
corset
gagged
collar
Similar bondage
Sasha Monet and Amber Michaels bondage adventures - 16
Sasha Monet and Amber Michaels bondage adventures - 15
Sasha Monet and Amber Michaels bondage adventures - 14
Sasha Monet and Amber Michaels bondage adventures - 12
Sasha Monet and Amber Michaels bondage adventures - 11
Sasha Monet and Amber Michaels bondage adventures - 8
Sasha Monet and Amber Michaels bondage adventures - 7
Sasha Monet and Amber Michaels bondage adventures - 6