Girls Figure Training BDSM Academy 8
Free bondage photo blog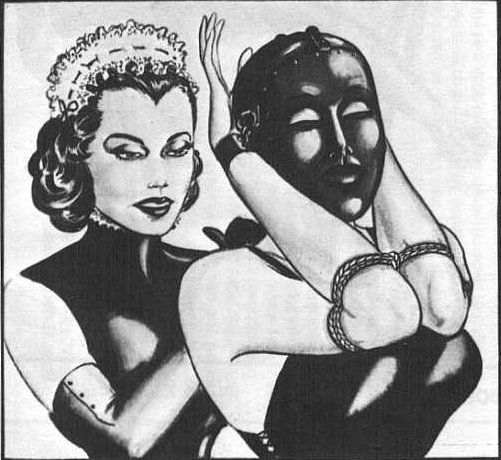 Mrs. Stringent wanted to try out some of the other costumes. She told her maid to release Hilda and the girl came over to the desk to help Madame get out the next costume.
First, Hilda's arms were dragged sharply down the front of her body and the elbows lashed tightly together with rope, pulled taut and straight, then knotted. Next a metal mask covering her head was lifted up and placed on her head and locked into position.
On either side of the mask were steel rings, and the two women forced Hilda's arms upward so one was placed against either side of the mask. They next chained her wrists to the two steel rings on the side of the mask, so her arms were fastened upwards. Next, a solid metal band was fitted around her waist and screwed tightly which made the band tighter around the model's body. Once this band had been fitted, a chain was passed through the ropes at her elbows and pulled down to hook into the front of the belt, holding her arms rigidly in position. Next, a steel spring was bolted to the belt at the front and this spring curved in a sharp arch backwards. It passed between Hilda's legs and up her back so its tip was centrally placed, almost touching her shoulder. Madame tied a large steel ball to the end of the spring, then ran a rope down from it down the center of her back, dividing it into two by means of a small ring. Thus, as Hilda moved and walked, the ropes were dragged by her knees, pulled the spring down, so as her legs came back in walking, the spring was released and the ball shot forward against her shoulders, admonishing her for taking too long a stride. Finally, knotted chains had been wound around each foot to provide makeshift shoes and cause walking to be an uncomfortable effort!

elbows bondage
bondage training
corset
hood
Similar bondage
Sasha Monet and Amber Michaels bondage adventures - 13
Jenna Lyte chair garter belt bondage
Mary Jane toe bondage
Karina ballerina bra and leggins bondage
Sadie Belle - Blue Eyes... Black Catsuit... Red Rope...
Rachel Paine reverse prayer box tie
Reconnection part 3
Reconnection part 2