Sweet Gwendolyn - maid in bondage illustrated story
Free bondage photos blog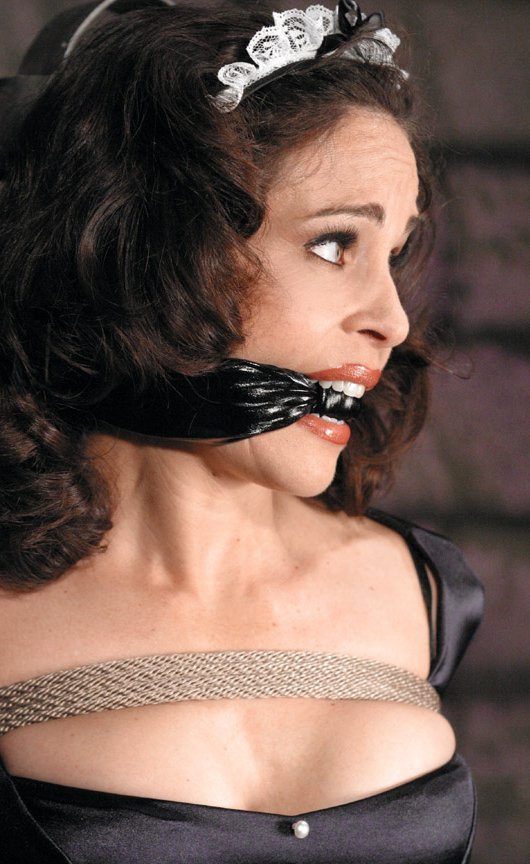 As people who have been here awhile will know, I have certain influences that I like to pay homage to every once in awhile. When I had this outfit made for the new O-girl adventure, I knew that at one time or another I would have to do something like this. Well, Karina was over last week and yes, I guess sooner won the day... :)

If you aren't familiar with John Willie's classic fetish artwork, you really should be. There is a fantastic book put out by {Belier Press called "The Adventures of Sweet Gwendolyn"}. A book that I can wholely and completely recommend. One of John Willie's recurring characters was Fifi... the sometimes good and sometimes not so good maid. Now, I have never seen any artwork by Willie of Fifi tied to a pole, but you know, it just seemed right.

Karina was just made to do this. I guess the stars just aligned or something. We shot these photos and I just sat there dumbfounded. I really couldn't believe how wonderfully this set captured the feeling and spirit of the Willie cartoons... I hope you agree... :)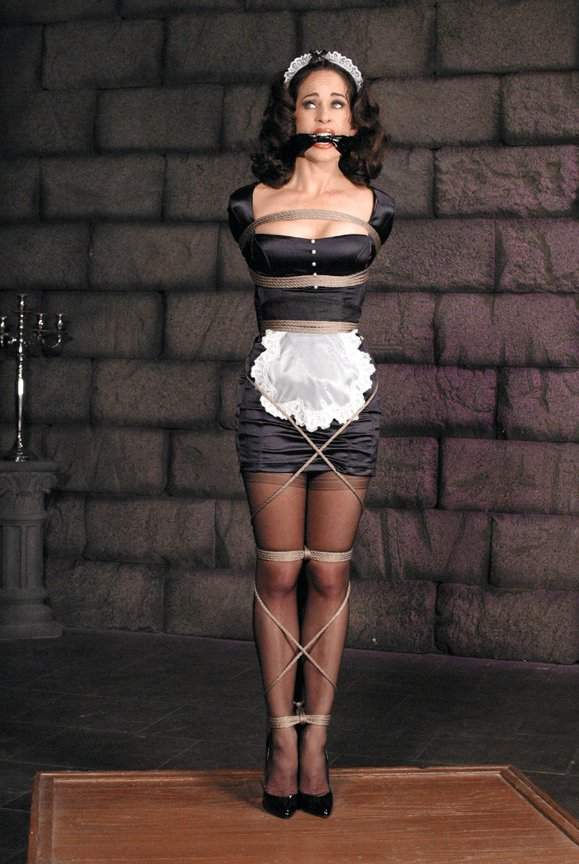 Now here is something a bit different. Sirena is a friend of Karina that decided to come down with her and try a little bondage... She has a pair of legs that rivals Karina (as if that was possible) and she is as flexible as anyone I have ever worked with... the results of that you will see in a couple of weeks...

In this particular case, she was just here to give Karina a little company. It gets a bit lonely when you can't move at all... and well having a friend in latex glomming all over gets rid of the loneliness really, really fast :)
I really just loved shooting these... and the girls really enjoyed it also... Karina would probably have enjoyed it more if she could have been more "active" in this little game, but personally I think she played her part perfectly!

Eventually, Sirena took off Karina's shoes just for something a bit different - and then did a little tickling.... Karina was so tightly tied to the pole that she didn't move down at all... which led to some really kick ass looks at those unbelievable legs... :)

I could go on, but I don't really think I have to. All you have to do is look at these pictures... all I can really say is:

OOOOFA!

These last few were taken as an afterthought... I'm glad I did. A couple of these are really just perfect. If this isn't a Willie dream... I don't know what is... thanks girls... you were fab and I really appreciate you coming down and bringing this to life!
ballet boots
maid
Similar bondage
Sasha Monet and Amber Michaels bondage adventures - 7
Sasha Monet and Amber Michaels bondage adventures - 6
Sasha Monet and Amber Michaels bondage adventures - 5
Amber Michaels strappado drooling bondage
Spread-eagled bondage and forced sex
Jenna Lyte and ballet shoes fetish
Christina Carter free bondage - Carry a big stick