Anastasia Pierce in latex X-frame bondage
Free bondage photos blog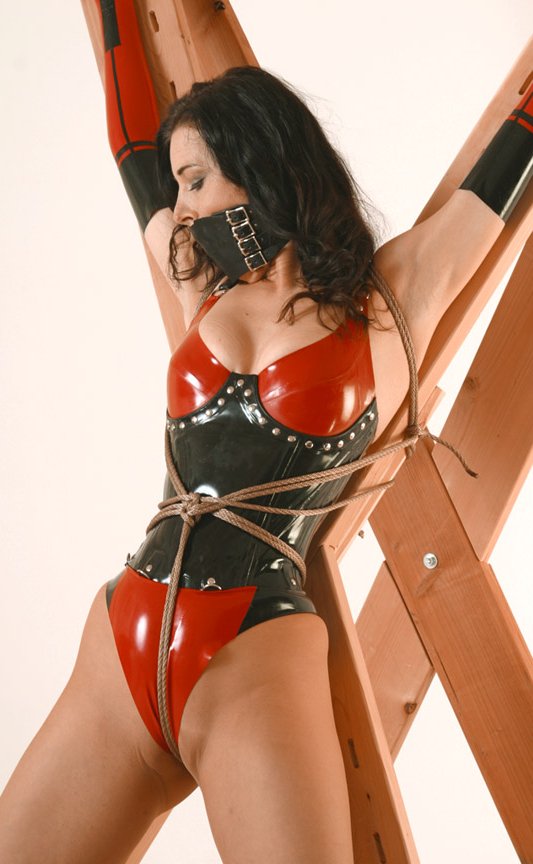 Yeah, I know that my mind wanders a bit sometimes and yes, I'm prone to "parallel thinking" quite a lot of the time - but something about this set really does remind me of WW. It probably is the boots... Too bad they never quite got Linda tied up like this :)
Once you have a damsel tied to your X-frame, there really isn't much she can do - so it is really up to you to keep the interest up. How to do that?
Well, a crotchrope would certainly make things interesting - especially one like this. Tied off across the room, poor Anastasia is forced into quite the predicament!
Just how far can she stand to thrust out that pelvis? Well, it's amazing just what a little rope can do. It's all a matter of leverage. Just make sure that you pull it very slowly. When you hear that tell tale moan of just the right pitch, you know you're just about there.
Of course we can't just leave her like that forever - that would be just another way she couldn't move - I personally had different plans. But first, I had to make sure she couldn't move that crafty little pelvis of her too much.
There... that works :)
Next on the menu? A very powerful vibrator tied in just the right place. I always think of this as "engineering" whenever I do this. It isn't easy to tie something like this to someone so it stays where you want it... But don't fret - practice makes perfect :)
Then, once it is there, all you need to do is turn it on.
If you are really mean you can sit by the outlet and plug it in and out... there is nothing quite like that jerk you get when you turn that puppy on and off - it is really quite entertaining - and really frustrating for the poor girl too..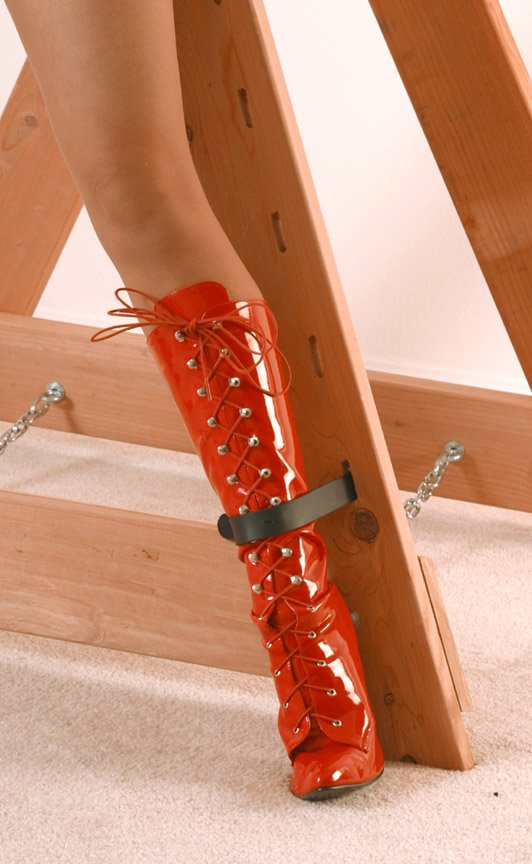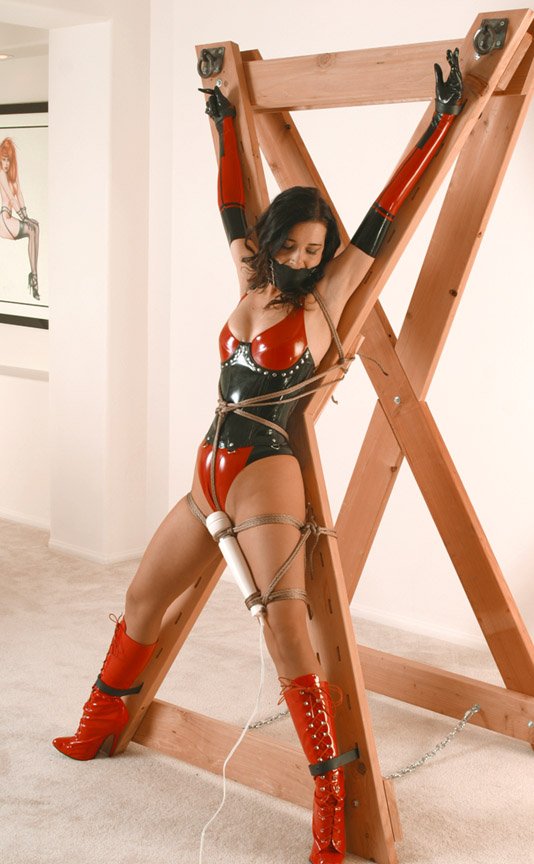 crotchrope
spread-eagled
gagged
boots bondage
vibrator
Similar bondage
Vibrator birthday bondage
Where is your son?
Room Service
Neck rope and ball-gag - uncomfortable bondage position
Pink micromini and black stockings bound and gagged
Crotch rope bondage, underwear and boots
Single glove, crotch rope and punishing stilettos
The keeper - illustrated bondage story, part 53