Stacy Burke latex tied and gagged
Free bondage photos blog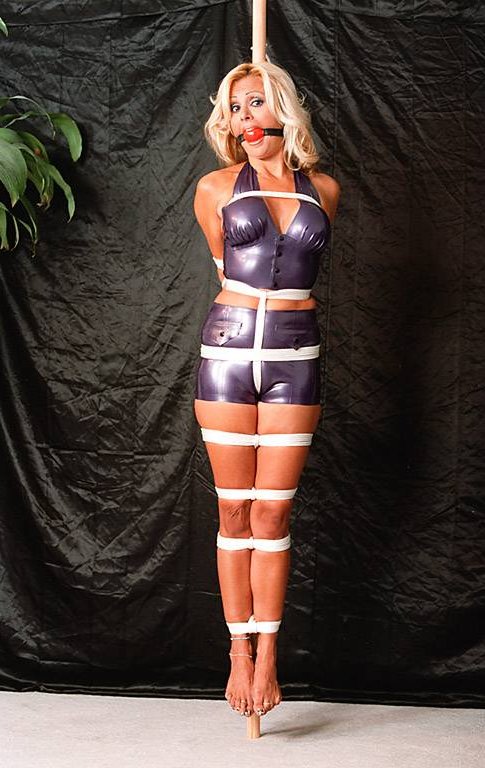 Oh my...
There is no one quite like Stacy. Jewel asked me the other day to describe her & I really had a hard time putting it into words. I think spunky is probably a good start - but wholly inadequate....
It had been a long time since I had seen her and the first thing I thought after I gave her a big hug was... *damn*, you look great. Not that she doesn't look good all the time, but for whatever reason, she was particularly stunning.
She looked at me and asked me what I had in mind for her... and like so many times, an idea just popped into my head...
I said... how about a nice suspended pole tie. Cory looked at me and said, "Hey, I was thinking of doing that..." Strange how things like that happen. Stacy was a bit apprehensive at first, but it actually worked out well...
Well... okay - she found it simple until I added a little "jewelry". It's funny how a simple little (nasty) pair of butterfly clamps can change the entire mood of the scene. Stacy went from someone that was enjoying her feet off the ground experience, to someone that was pretty much ready to come down...
You can see it in her expressions...
Stacy has her own webpage... with lots of bondage pics... why don't you run over there for a quick visit... I'm sure she would love to hear from you...
I must admit I do like pole ties... yes, there isn't exactly a lot of different contortions that the model can get into and because of that, the pictures do tend to be a quite similar, but that is because she is completely unable to move *at all*. Which in its own way is kinda special... :) Thanks Stacy... You are fabulous...
crotchrope
latex bondage
ball-gag
punishment
Similar bondage
Vibrator birthday bondage
Where is your son?
Room Service
Neck rope and ball-gag - uncomfortable bondage position
Pink micromini and black stockings bound and gagged
Crotch rope bondage, underwear and boots
Single glove, crotch rope and punishing stilettos
The keeper - illustrated bondage story, part 53