Sasha Monet and Amber Michaels bondage adventures - 3
Free bondage photos blog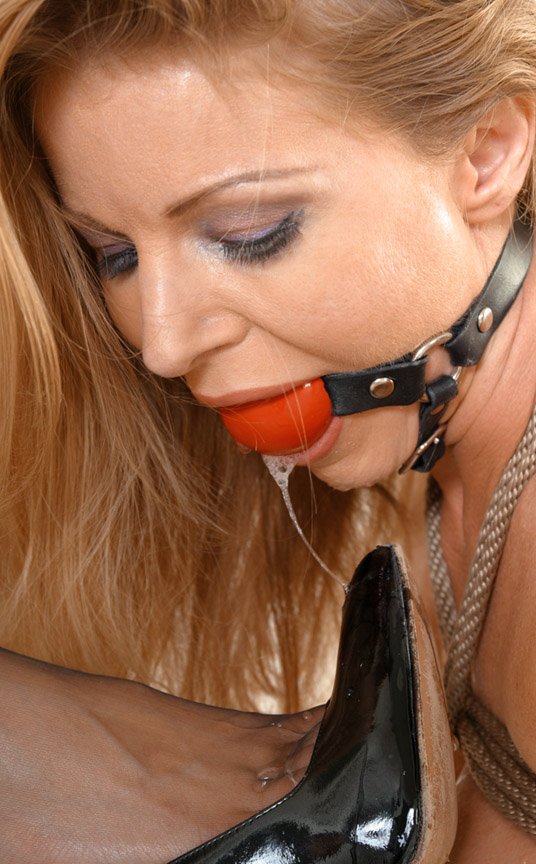 Sasha knew her little act hadn't gone unnoticed.
'You want this?' she asked, slowly kicking her foot up and down.
'Uh huh.' Amber said as best she could with the large red ball gag in her mouth.
'Well, I'm not going to come over there.'
Amber struggled her way over to Sasha's waiting foot and began to worship it - or at least she tried. All she really accomplished was to drool all over it - her saliva slid out of her mouth and drooped over Sasha's foot in torrents.
Sasha let her friend struggle with her bondage for quite awhile before finally reaching over and pulling her gag from her mouth.
'Having fun.?'
'Yes, Mistress.'
'Then what's the problem?'
'It's just so tight.' Amber whimpered.
'Of course it tight, it's supposed to be. Well, you might as well finish cleaning my shoes, now that you've drooled all over them.'
Amber didn't have to be told twice; She immediately to to work, licking and sucking on Sasha's shiny black pumps. After a time, Sasha let her shoe fall off her foot and then shoved her foot in Amber's face.
'You're just a little foot slut, aren't you?' Sasha asked.
'Yes Mistress.'
'You like the smell of my stocking feet?'
'Yes, Mistress.'
'How about the taste?'
'Mmmm' Amber replied taking her cue and sucking on Sasha's silky foot. She went at her foot with reckless abandon, sucking and licking each part in turn. Amber wasn't the only one enjoying herself. The touch of her captive friends mouth around her toes, along with the sight of her struggling body was driving Sasha crazy.
Amber knew this of course and did her best to please her. Moaning and struggling as she worshiped her stocking feet.
Then Amber pulled her foot from her mouth and sat up.
'You are such a foot slut. You'd suck my feet all afternoon, wouldn't you.'
'Yes, Mistress.'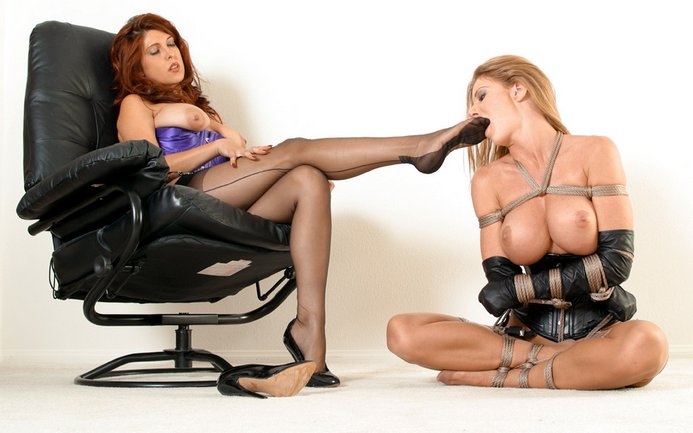 drooling
ball-gag
corset
lesbian bondage
femdom
leather bondage
bondage stories
stockings
slavegirl
Similar bondage
Budweiser and bondage
Days with the sybian on it's lowest setting
Spending the day at home
Bondage training and transformation
Happy birthday dear latex maid
Neck rope and ball-gag - uncomfortable bondage position
Pink micromini and black stockings bound and gagged
Redhead in leather corset dress bondage struggle