Happy birthday dear latex maid
Free bondage photos blog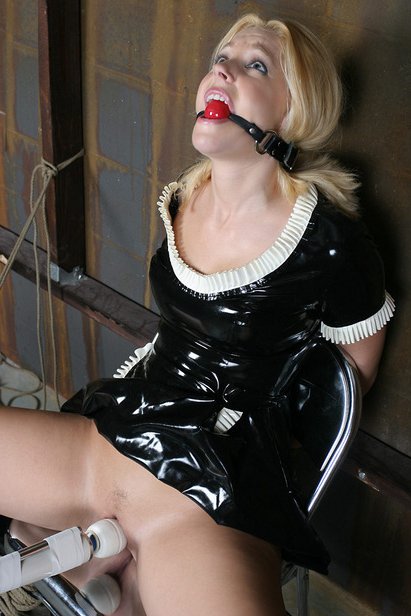 "...happy birthday dear Ashley. Happy Birthday..."
"Wait no stop, stop. Dee, I think you are still a little flat in the harmony, and Martha, I need more energy from you."
"Mmmph .. mpphhrrph"
"What? ... No Ashley, you canít open your presents until you blow out the candles, and you canít blow out the candles until we sing Happy Birthday to you. Now Just sit still, Iím sure well get it right this time. OK girls from the top."
"Happy Birthday to you ... Birthday to you..."
"No no, stop stop! Steffie you are late again. Iím beginning to think you are doing that on purpose. Itís like the 17th time you've done that."
"Now come on girls, pull it together. Iím sure that Ashley can't stand this much longer. I mean that vibrator IS set to 'mind-blowing.' If we don't get this right soon and untie her, the only thing Ashley's going to get for her birthday is a severe case of nymphomania. Once again, from the top."
"Bappy Hirthday to you ... giggle"
maid
latex bondage
vibrator
drooling
ball-gag
Similar bondage
The little obedient rubber maid slave
Latex main in metal stocks
Maid girl spread tied vibrated
Maid gagged in sluty outfit
Latex maid uniform
She struggled uselessly in herself imposed prison suit
Being rich and single has many rewards
Restrained 24/7