Sasha Monet and Amber Michaels bondage adventures - 5
Free bondage photos blog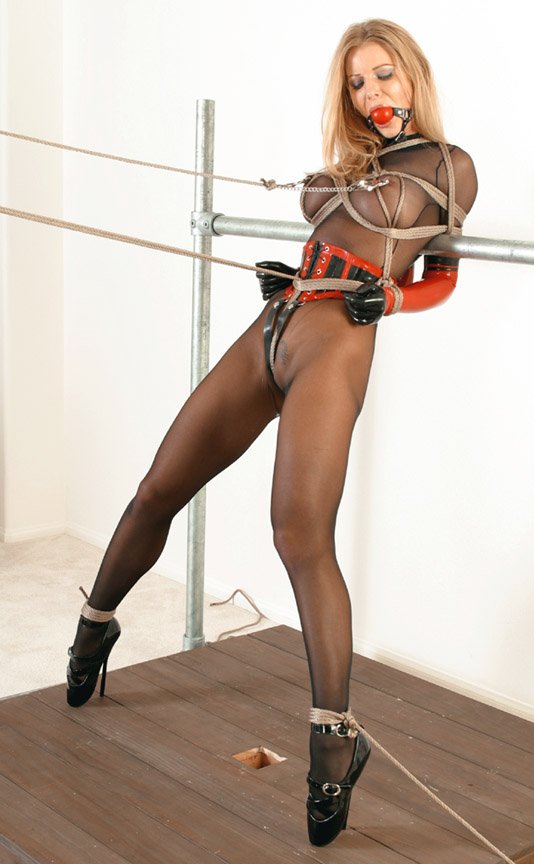 Sasha was true to her word. After dressing her in another ridiculously sexy outfit, she tied her in a seriously wicked bondage. She forced her arms over a pole, and then tied her there, her wrists attached to a rope around her waist and her elbows pulled back as tightly as she could manage. Then it only got worse. After shoving a ballgag in her mouth, Sasha strapped on a pair of shoes that Amber could never have imagined. The heels were a full seven inches high and they were designed in such a way that she was forced to stand on the end of her toes like a ballerina.
She would have complained but for the gag in her mouth. But Sasha wasn't finished. She pulled the rope hanging down between her legs and pulled it tightly up inside her crotch, under her waist rope and out to a post standing in front of her. She then pulled her out until Amber's pelvis was thrust out as far as it would go.
It was hellish insanity. Amber moaned and did her best to get free, but it only seemed to egg Sasha on. The final touch was the worst. Sasha pulled out a pair of shiny nipple clamps and put them on Amber's breasts. The tight ropes around her chest had aleady made her nipples sensitive - and the clamps were insanely tight. Her nipples erupted in pain.
'Struggle for me.'
Sasha let her struggle for a short time before putting the icing on the cake. To Amber's horror, Sasha attached a rope to the nipple clamps and pulled them out the to post in front of her. Amber soon realized the the clamps were designed to tighten as they were pulled - and she winced in agony as Amber slowly pulled the rope taught. When Sasha was done, she looked at Amber with dark eyes full of lust.
Sasha walked a short distance away and watched her friend struggle in her fiendish bondage. The site made the crotch of Sasha's black catsuit instantly wet. Amber could find absolutely no relief. Whatever she did just seemed to make it worse - soon the drool was flowing out of her mouth, matched only in it's voracity by the sound of Amber's whimpering.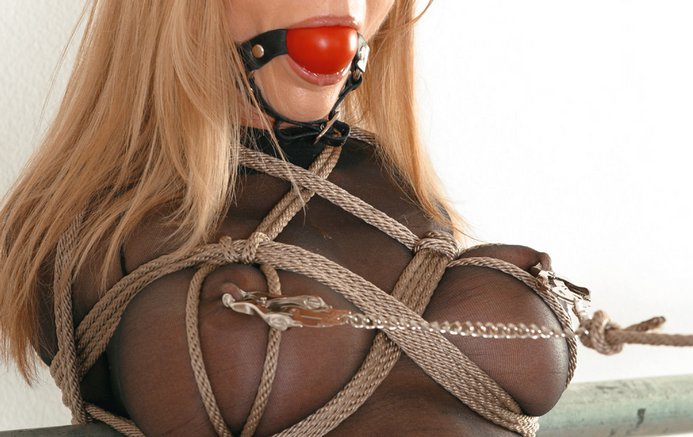 ballet boots
crotchrope
nipple clamps
ball-gag
corset
lesbian bondage
bondage stories
post tied
Similar bondage
The genie and magic lamp
Penis gag and hood
She found herself in tight latex and bound to the bed
Unwilling rubber slave
Bound to pussy licking chair
Rubber suit and electroshock
In the mirror
Ballet shoes, posture collar and corset