Sasha Monet and Amber Michaels bondage adventures - 8
Free bondage photos blog
'I think this needs to come off now. I want you to be able to see what I'm going to do to you.' Sasha said, pulling the blindfold from Amber's eyes.
She then untied one leg and slowly pulled it upwards until it was way over Ambers head.
'Isn't this wonderful?' Sasha asked.
'MPPHNOO' Amber moaned, trying to relieve pressure on her single foot. It was horrid; Sasha just didn't know when to stop.
'I just wanted better access.' She said, sliding down between Amber's spread legs.
She was lying of course. She only gave Amber a fleeting touch before she was gone again. Amber couldn't believe that she had actually left her like this. When would she return? Amber lowered her head in defeat - she had no choice but to find out.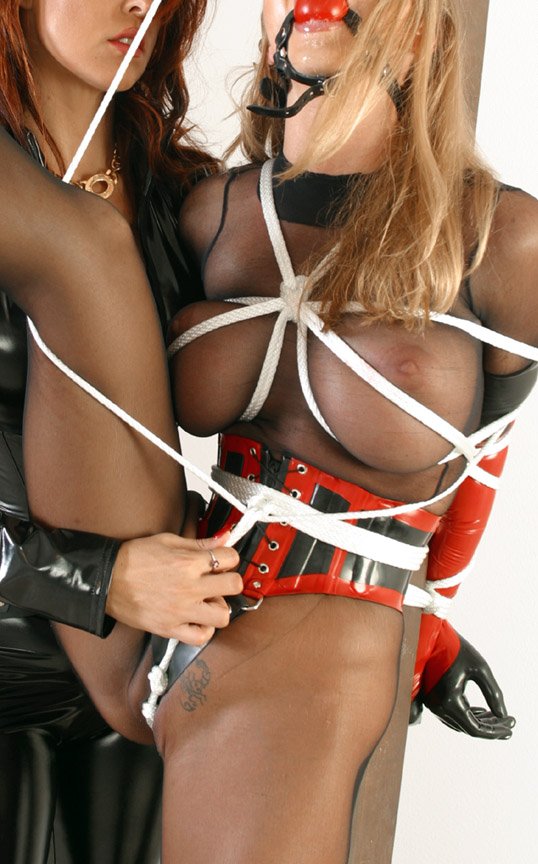 ballet boots
crotchrope
punishment
post tied
ball-gag
corset
lesbian bondage
bondage stories
Similar bondage
The genie and magic lamp
Penis gag and hood
She found herself in tight latex and bound to the bed
Unwilling rubber slave
Bound to pussy licking chair
Rubber suit and electroshock
In the mirror
Ballet shoes, posture collar and corset