Sasha Monet and Amber Michaels bondage adventures - 9
Free bondage photos blog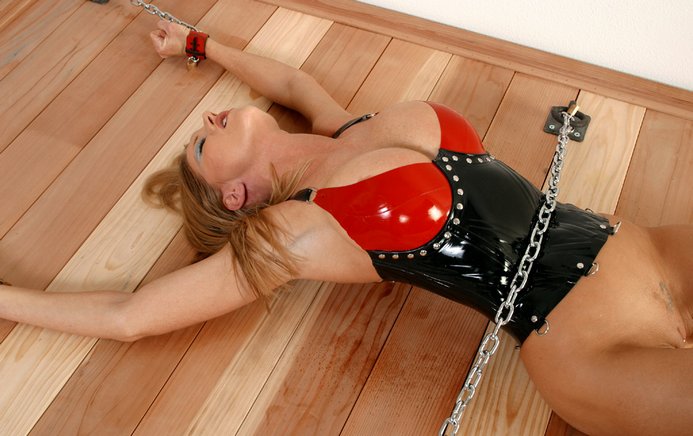 Luckily for Amber, Sasha only left her there a short time - but it was long enough.
When she did finally come back and cut her down, Amber fell into her arms like a limp rag. She was completely spent. Sasha held her, stroking her as she softly as she slowly rocked back and forth.
'That was so hard.' Amber whimpered.
'I know. But don't worry, the next one will be much easier.' Sasha replied, pulling Amber's clothes from her body.
'You're not going to tie me up again, are you?' Amber whined.
'But of course. You belong to me for the weekend, remember?'
Sasha laid Amber down and the ground and went to work. She dismantled the pole and then brought in a wooden platform. She then laced Amber into a tight latex basque and chained her down to it.
She was true to her word. This wasn't stringent bondage, but Amber wasn't getting away either. The multitude of locks made very sure of that.
'Well, I'm going to get changed.' Sasha said, walking away. 'I'm tired of this catsuit.'
'Don't leave m-' Amber was about to say, but stopped. She was already gone.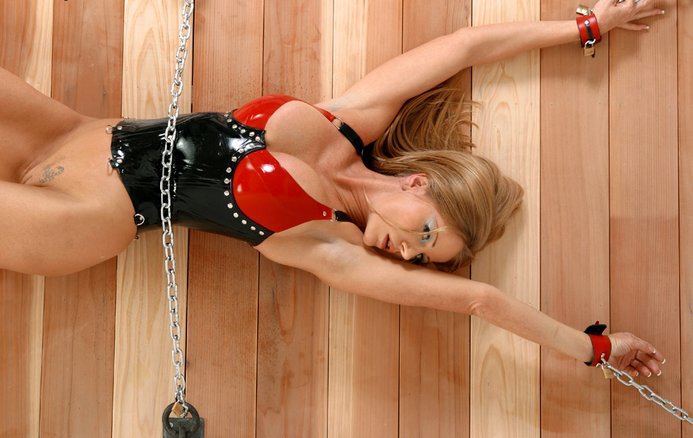 chained
spread-eagled
punishment
latex bondage
bondage stories
Similar bondage
Sasha Monet and Amber Michaels bondage adventures - 10
Penelope Meets Her Twin in the asylum
Girl Bound Boatride
Armbinded and tight harness
Locked in Place
Bittersweet bondage therapy 5
Bittersweet bondage therapy 4