Sasha Monet and Amber Michaels bondage adventures - 10
Free bondage photos blog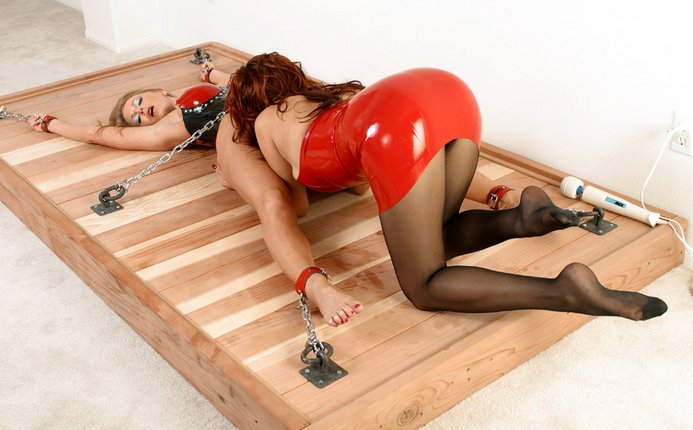 Sasha soon returned. This time in a tight red latex dress and nylons.
She walked slowly forward, dragging her foot along the inside of Amber's thigh and then against her pussy.
'You really are such a little bondage slut.' Sasha said. 'I can feet how wet you are through my nylons.'
Amber said nothing, but that didn't matter. Sasha wasn't really waiting for a response. She got down and slowly began kissing and licking her way up Amber's struggling body. When she finally reached her crotch, Amber body was absolutely quaking.
Just to show Amber who was in control, she didn't linger there long. Instead she slowly worked her way upward, straddling Amber's struggling body between her hot, firm thighs.
'You really do love this, don't you?' Sasha cooed.
Amber wasn't lookign for conversation. She opened her mouth and Sasha slid her tongue inside. The girls kissed passionately, Amber moving slowly under Sasha's body.
Sasha moved downward again. This time she stayed.
Within a few moments, Amber was writhing on the platform, pulling at the cold chains holding her captive.
Just as she was about to come, Sasha stopped.
'Hey!' Amber cried, but her protests only brought out the gag, which Sasha quickly put back into her mouth. 'You need to learn to be quiet' Sasha said. 'I've got a lovely little toy that I'm sure you are going to love!'
Without hesistation she grabbed the large white vibrator and shoved it against Amber's waiting pussy. Amber writhed against it, bucking like a bronco against the bonds holding her so helplessly in place. She came almost immediately, but Sasha didn't stop, she held the vibrator in place will Amber writhed through orgasm after orgasm, until it all seemed like a blur. Far past the point where Amber lost track, Sasha stopped and stood over her.
'Well, I think it's time for bed. I'm going to go freshen up. You can just lay there like the lazy girl you are... I'll be back in awhile...'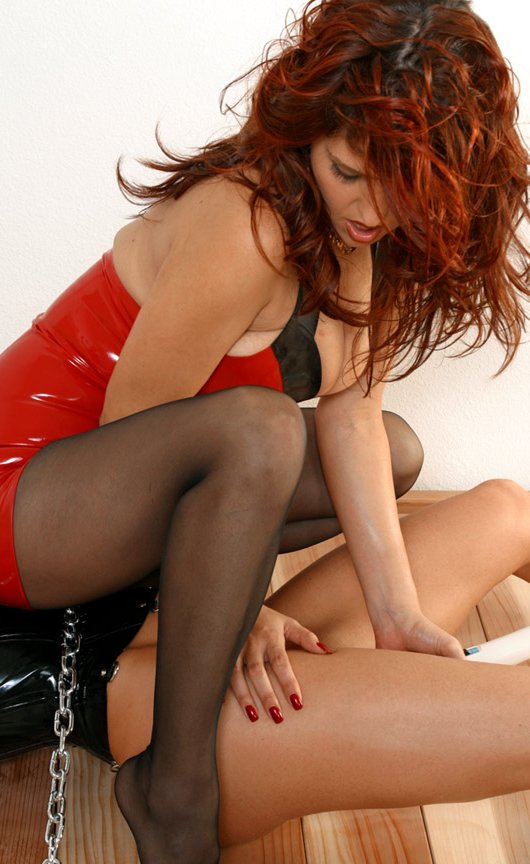 vibrator
chained
spread-eagled
punishment
latex bondage
bondage stories
Similar bondage
Bittersweet bondage therapy 12
Bittersweet bondage therapy 10
Anastasia Pierce in latex X-frame bondage
Christina Carter free bondage - Carry a big stick
Sasha Monet and Amber Michaels bondage adventures - 9
Penelope Meets Her Twin in the asylum
Girl Bound Boatride