Sasha Monet and Amber Michaels bondage adventures - 16
Free bondage photos blog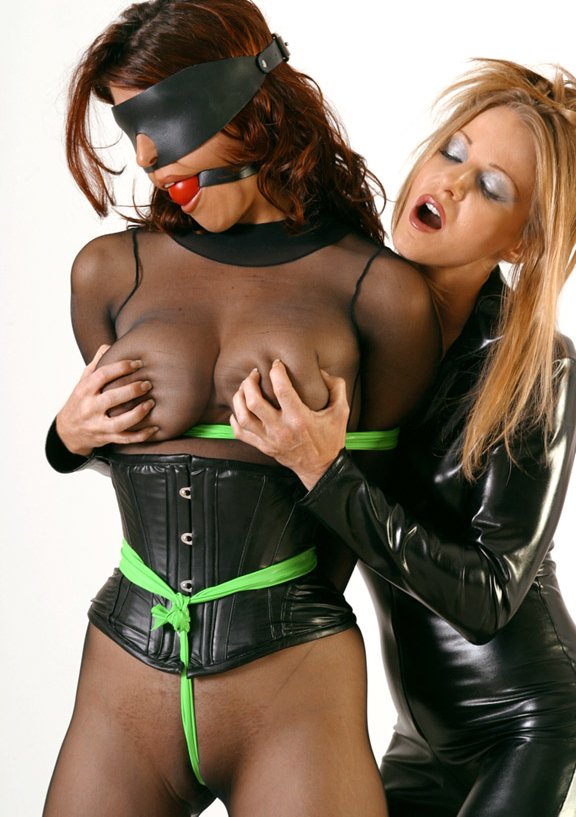 Amber gave Sasha a bit longer to recover - almost an hour - but she didn't untie her wrists, except for a brief moment when Amber pulled the sheer nylon body stocking on her; But even then she was never completely free. Amber then proceeded to blindfold her with the leather blindfold she had used earlier and then came the gag and the application of her new bondage.
This one was new. Instead of rope, Amber used some of Sasha's exercise strips. Although they were stretchy, they felt somehow tighter than rope at the same time. Amber left her standing in the middle of the room, completely disoriented for quite awhile. Sasha didn't know how long she was gone, but it seemed like an eternity. The worst part of it was that she really didn't know if Amber was gone or if she was in the room with her, watching her struggle in her bondage.
When she did return, she said nothing. Her actions were the only dialogue. Whether it was a soft caress or the sting of a band across her body, Sasha had no idea what was coming next. Amber quietly walked around her snapping her and then moving in to caress her soft inviting body.
It was driving Sasha crazy - she had no idea what to expect and that made whatever came that much more intense. She pulled at her hands that were firmly tied to the crotchrope between her legs and moaned - she could feel the wetness of her pussy growing with each passing second - something that didn't get past Amber either - one touch between her Sasha legs told her everything she needed to know about her helpless prey before her.
She took her piece of rubber and pulled it tightly between Sasha legs, pulling it back and forth as her hips gyrated against the tight green rubber. Then she pulled it out and slid it across her face, letting her smell her own excited juices...
Then just as soon as she was there, she was gone again. Sasha spun around first one way and then another, trying to sense what was going to happen next - she soon found out as the crop came down across her soft defenseless derriere.
Sasha spun around, but had already moved behind her and another swat sent her reeling in the opposite direction.
Sasha squealed into her gag, but that only seemed to excite Amber more. Stroke after stroke fell and still Sasha had no idea which way Amber would strike next.
Amber shoved the crop between her legs and began sawing the rough leather against her pussy. Sasha pushed her legs together and buckled over - she was so turned on she could almost burst... and yet, Amber wasn't going to let her come. Amber pulled the gag from her mouth and kissed her.
'Well, I'm afraid that this weekend is over.' She cooed. 'Wanna play some more pool next weekend?'
'Winner take all?' Sasha moaned, smiling.
'Of course...' Amber replied, putting the gag back into her mouth.
The End.... ?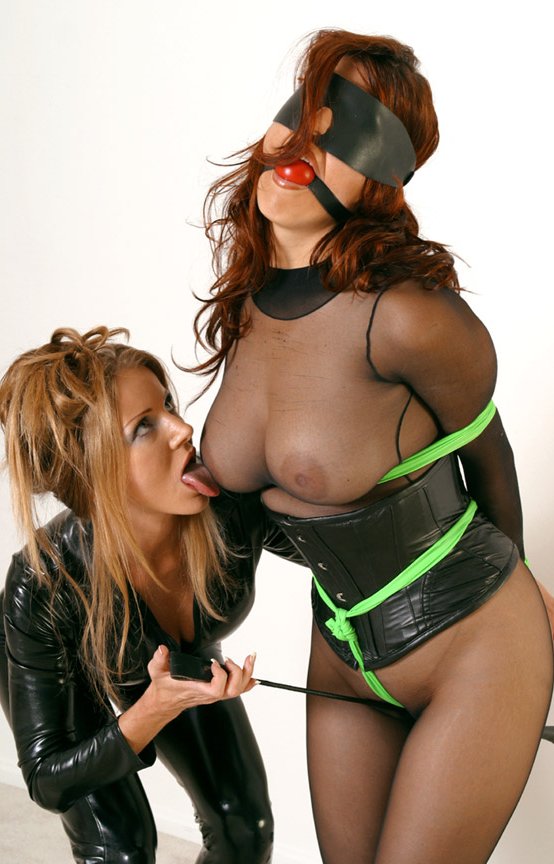 crotchrope
corset
redhead bondage
bondage stories
lesbian bondage
ball-gag
latex bondage
Similar bondage
Vibrator birthday bondage
Where is your son?
Room Service
Neck rope and ball-gag - uncomfortable bondage position
Pink micromini and black stockings bound and gagged
Crotch rope bondage, underwear and boots
Single glove, crotch rope and punishing stilettos
The keeper - illustrated bondage story, part 53