Free bondage photos blog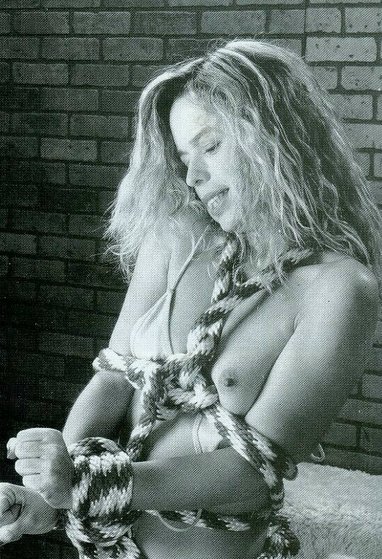 Candy is a girl who's up for almost anything, especially if it's likely to be a turn-on. And for Candy, almost anything could be.
Bondage is a particular favorite. Being restrained always makes her think of interesting things that could happen to her, and just thinking of those things gets her in the mood.
Chains are nice, and so is leather, but rope is her number one choice. She likes the way the soft coils wind sinuously around her compact, muscular, tanned body, seeking out all kinds of sensitive spots, almost like a living thing. She's especially fond of brightly colored, decorative ropes that make her look as festive as they make her feel.
Even simple rope bondage on the wrists and ankles is enough to get her warmed up, but the more elaborate the rope work, the stronger the sensation. If the rope is used to harness her around the tits, making them swell up so her nipples harden, it always sets her little heart to fluttering. Add another few loops up between the thighs and around the ass, and she's likely to be squirming with aroused passion in about two minutes.
That's when Candy starts to craving something stronger. A good, hard spanking will certainly do the trick, but a real whipping is best of all. She favors riding whips because they're so precise. She craves the ferocious kiss of the stiff, unyielding leather crop on the bottom cheeks, the upper and lower surfaces of the breasts, and especially on that particularly tender spot in the middle of the inner thigh. She always tries to hold still to receive the mark in just the right place, but it's never easy to remain that way, once she starts to get worked up.
She looks to start out standing up, because that way the whip can find any part of her, front or back, with ease. By turning a hip outward, or bending down a little, she can expose a new area to the powerful stimulation she craves.
But when she really gets into it, she almost has to be tied down flat, because the waves of ecstasy washing over her tend to make her go weak in the knees. Besides, lying down makes the bottoms of her feet accessible to the whip. That's a special taste she's discovered recently, and now she can't get enough of it.
And, too, once she'd down on her back, all spread out, she knows other kinds of pleasures are likely to come her way. She likes the feeling of having to relax and enjoy whatever might happen to her, knowing that she couldn't get away, even if she wanted to, which she never really would. Although if liberated for a moment, she might roll languidly over to offer up her cute little rump for a few extra strokes, or for any other clever suggestion that might come up.
For those lucky few who have experienced a taste of Candy, nothing else is likely to be as sweet.
crotchrope
slavegirl
Similar bondage
Vibrator birthday bondage
Where is your son?
Room Service
Neck rope and ball-gag - uncomfortable bondage position
Pink micromini and black stockings bound and gagged
Crotch rope bondage, underwear and boots
Single glove, crotch rope and punishing stilettos
The keeper - illustrated bondage story, part 53