The keeper - illustrated bondage story, part 69
Free bondage photos blog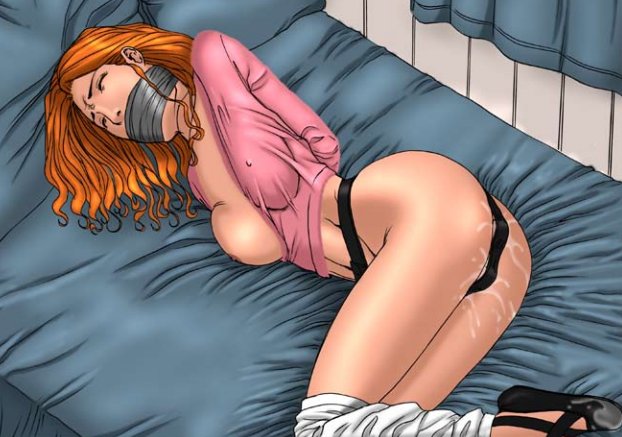 The old woman smiled back, using her teeth.
"Right."
"Well, all right then," he said, straightening. "Come on in to see how nice we've done this baby up." For anyone who might have heard him, even in passing, they would have assumed he was talking about the motorhome's interior design. And, it was very nice, indeed. But the best thing was leashed on the bed in the back.
Melissa lay, seemingly in some sort of stupor, on her side. She wore only a pink cashmere, midriff-bearing, wraparound sweater which tied off into a deep v-neck (exposing one fne tit while molding the other, its nipple poking into the material). On her legs were matching fuzzy leg warmers which came up to her thighs. On her throat was a thick, wide collar, with a ring at the back of her neck which attached to the handcuffs which kept her wrists high up her back.
Her crotch wasn't completely exposed. Instead there was a belt which was tightened around her tiny waist, buckled to a matching belt that went between her legs (the "V" between her frm thighs leaving a perfect space for it). That strap held in the dildo and butt plug that was deep in those orifces. The belt sunk attractively between her tight butt cheeks.
On her feet were her point shoes, one stained with cum and cunt juice. The ribbons were bound tightly around her ankles and shins.
Her lower face was covered with the industrial tape while her upper face refected an expression of night-marish agony. To her surprise, the old woman couldn't quite place it.
"What drugs are you using on her?"
"Drugs?" he said with surprise. "Only the gruel you gave us."
The old woman motioned toward her slowly undulating form. "Then what is she on?"
The man looked toward the pretty little girl on the mattress in confusion, then brightened. "On me, darling!" he fnally answered. "She got one of them plastic fabric softener balls in her mouth. You know, the ones they advertise that leak fuid every couple of minutes? Only this one I emptied and reflled with my love juice, you know?"
The old woman looked back. That would explain the dazed sex kitten's chewing, coughs, chokes, and oc- caisional desperate swallowing, but not her torpor.
"No, not that," she pressed, more interested in knowing the secret for herself rather than any concern for the redhead's well-being. "Her state... her mental state...."
"Her mental...," the man was saying as his wife suddenly appeared.
As the plain woman walked noncommittally by, she said quietly, "I don't think anything really prepared the little dear for the intensity of my husband's 'love-making'...."
Then she went into the vehicle's tiny bathroom and closed the door behind her.
The old woman looked in growing wonder from the shapely teenager on the bed to her brother-in-law. For his part, he beamed like a proud poppa.
"Yeah, I guess she was a bit taken aback," he admitted. "But when I love 'em, I love 'em!"
The old woman stared at her, remembering everything her son and she had done to the dear, then trying to imagine what this man could have done to reduce the strong, young redhead to this state of insensibility.
"You've GOT to videotape it for me sometime," she said.
"Well, okay," the man shrugged, thinking back to how he had moved around the motorhome's interior, practically using his sister-in-law's cunt like his own hand, masturbating himself with her as if she were light as a thighmaster—jamming her repeatedly on his hardon as if jack-hammering— while slamming her torso to the wall, foor, and bed as her wrists writhed in the bonds and she gasped into the gag.
His wife, her sister, came out of the bathroom. "Time to get going," she said.
Looking back at the moaning fgure on the bed, the old woman followed them to the front of the motorhome.
"Can't really be seen from toll booths," the man assured her. "Even if she could, I don't think they could make out the stuff on her mouth or wrapping her legs. Besides," he shrugged. "The little woman here'll be driving through the most populated areas while I catch up on my recreation...."
The old woman looked at the woman, who, for her part, only looked sheepish. "I haven't been keeping up with my wifely duties," she admitted with a guilty murmur.
The old woman immediately imagined Missy under the sheets as the vehicle moved along with the traffc; her knees bent, legs wide, tush off the mattress, arms high up her back; his hand clamped tight over her mouth and his cock deep inside her, her breasts mashed to his hairy chest...screaming her head off as he fucked her brains out while the rest of the world drove alongside, oblivious, for hundreds and hundreds of miles....
"Well, have a good trip," the old woman said simply.
"Drive safe."
"You bet," said the man, heading for the back, then stopping. "Hey, your son around? I was just wondering if he'd like to say goodbye or something...." "Or something?" the old woman asked.
"Well, you know," the man said with a grin. "None of this would've happened if he hadn't...if she wasn't so...if you didn't...." He breathed deep and started again. "Well, after all he did, peeping and stalking and everything...I was just wondering if maybe he'd like a...well, you know, 'farewell fuck' or something."
"An 'au revior rape'?" the old woman immediately thought, but what she said was; "That's very thoughtful of you, but my son's not here right now."
"Oh," said the man, apparently disappointed. Obviously he wanted to watch as his sister-in-law stared in horror at him while being assaulted by someone else.
"That's too bad. Oh well, maybe some other time." The man took another step, but couldn't give up the desire. "Is he...do you think he'll be back soon?" he asked, turning around yet again.
"Not very likely," the old woman admitted. "You see, one of the nice things about the boy is that he lets bygones be bygones. He moves onto other things."
He missed her point. He wanted to watch so bad he pressed on. "But," he said, motioning toward the cruelly bound and gagged teenage redhead who lay, indolently contorting, on the bed. "After all she's meant to him...."
But the old woman shook her head. "I couldn't disturb him," she maintained. "You see, tonight's his frst date since he left her...."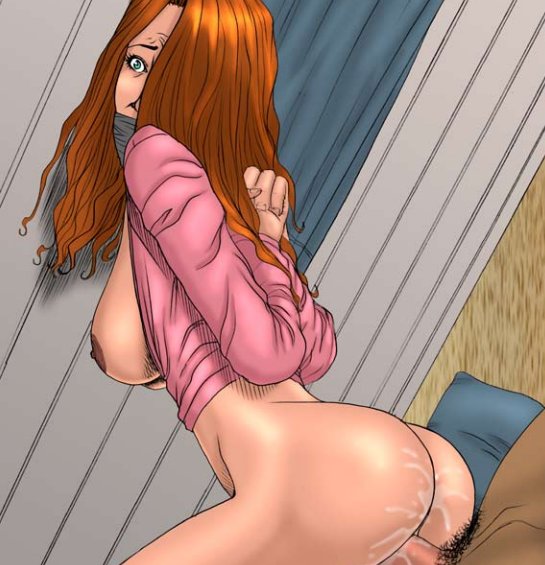 vibrator
redhead bondage
tape gagged
bondage sex
bdsm stories
Similar bondage
Maid girl spread tied vibrated
Spread-eagled in corset
Inside the latex vac bed
Self imposed bondage
Bound in the torture box
Sometimes fantasies should remain fantasie
Permanent Rubbercunt
8 hours vibed nonstop on the lowest setting the Sybian