The bottom of the pecking order - bondage photos
Free bondage photos blog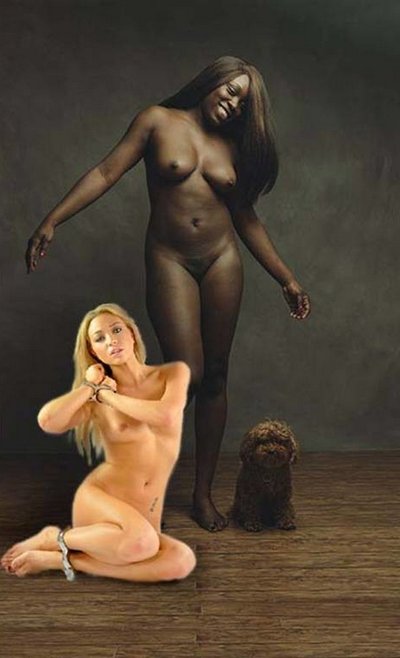 The pecking order here is quite simple. First there is the Mistress at the top, then comes Poco, her adorable black Cockapoo, and down at the very bottom is 'spanky', her blonde slave.
Spanky has quite a few scratches on her buttocks and upper thighs, all caused by Poco's claws as he constantly tries mounting her from behind. The poor little thing can't seem to gain entry, but he tries his heart out and usually gets to rub his little red-tipped penis against spanky's soft smooth skin enough to allow him to 'shoot' his little doggie seed across her ass cheeks! It makes for very cute, but extremely humiliating video, and is often used as a threat to keep spanky 'in line' and obedient to her Mistress' commands.
Mistress' favorite command is to order spanky to face the camera, legs spread wide, and finger herself to orgasm after orgasm as she moans and licks her lips. That's everyone's favorite. There are other, more degrading commands, and the videos with Poco are always there as incentive. For some reason, spanky will do absolutely anything to keep Mistress from releasing those to her family and friends!
lesbian bondage
femdom
bondage training
public bondage
Similar bondage
Strict new law
Victim sealed in latex
Bondage slutty outfit
Preparing the CatWoman
Where is the key to his chastity cage?
Super secret, special checkpoint... for blondes
Enslaved and displayed by her FORMER
Revenge is served nightly, with a smile!