Strange device - bondage photos
Free bondage photos blog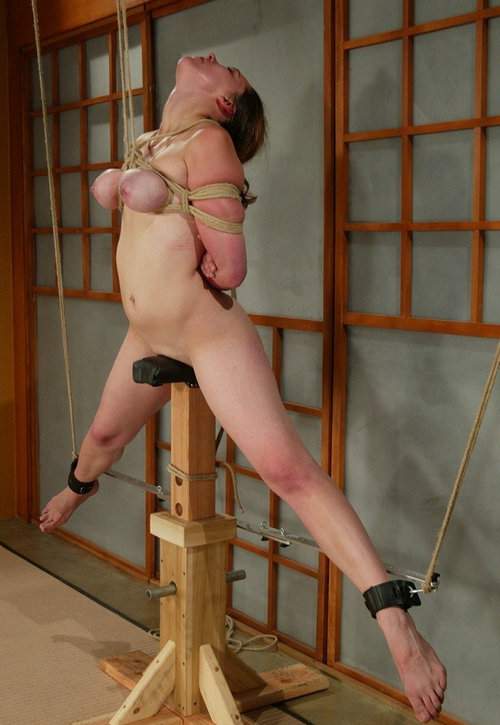 She had always known her brother was into kink and wanted to see what went on inside that garage of his.
The perfect day arrived, parents were away for two weeks abroad and her brother had gone away for the weekend.
Finding the garage key was easy, she knew exactly where he kept it. Inside the smell of rope, metal and rubber hit her nostrils as she saw all the strange equipment hanging from the walls. But her eyes were drawn to the strange device against one wall and the booklet that described how it worked and could release everything.
She picked up the rope and following the instructions carefully, tying the loose ropes to her ankles cuffs and slipping the pre-knotting body harness around her.
She then climbed up the post and sat down with a giggle, squeeking in shock as it depressed down slightly, triggering the motor above.
She suddenly found her legs being drawn up, stretching her wide and locking her to the bar. The harness tightened, gripping round her body and slipping into the right place as her arms were drawn behind her back and forcing her to balance using her now bound breasts.
It was then she noticed the custom made DVD cover next to a spy camera titled *My Sister, the sex slave* She screamed and shrieked, more so as she heard a car pull up on the driveway.
hair bondage
predicament
spread-eagled
punishment
tortured
Similar bondage
Mistake in the bedroom
72-hour punishment cycle for student
Iceblock predicament victim
The keeper - illustrated bondage story, part 43
Hogtied in The Red Room with Emily Addison
Girls Figure Training BDSM Academy 18
Girls Figure Training BDSM Academy 17
Girls Figure Training BDSM Academy 12