Rope cuffs and bondage restraints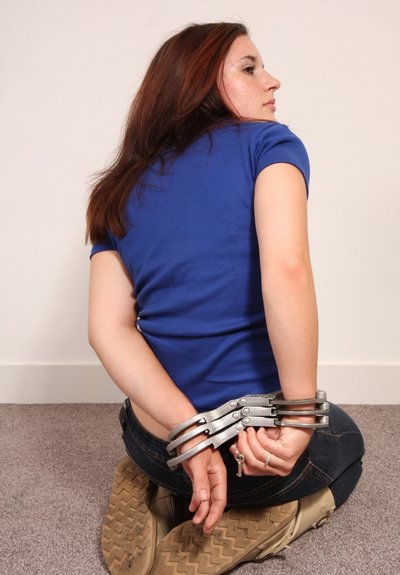 Restraints - ankle and wrist bondage tools. These are the evolution from handcuffs and shackles. Many restraints are leather with a fleece lining for durability and comfortability. Be sure to buy specific suspension restraints for suspension scenes.
INSTITUTIONAL BONDAGE RESTRAINT
Straitjackets, hospital-style straps and leather-cuffs for wrists, ankles and torso. When the term is more loosely applied, it can also refer to stocks and other historical governmental restraint.
Cuffs or cuffing
Cuffs can be made out of leather, rope, cloth or metal and are designed to restrain the wrists or ankles. Bare metal handcuffs can easily be shut too tight and impair circulation as well as causing chafing. The better leather or synthetic cuffs generally have some form of fur or sheepskin padding inside. The quality of the cuffs available commercially is hugely variable, and so its worth buying from someone who understands the uses to which cuffs might be put and is able to offer suitable products. For example, using cuffs as a playful symbolic restraint is quite different from using cuffs to bear a persons suspended weight. Make sure the leather or fabric is cleanly cut with no sharp edges, and preferably lined to reduce the risk of chafing, with strong, secure fastenings of smooth metal (no sharp edges) or velcro.
Types of bondage restraints
Rope Gauntlet
How to use cables in bondage
Cable ties bondage tips
Chain-stitched rope collar
Frech bowline bondage technique
Rope handcuffs technique and tutorial
Rope clover clamps
Reverse parallel rope handcuffs technique
Suspension rope cuffs
A Simple Two-Column Weave - arm rope bondage technique
Variation: spread two-column tie tutorial
The basic restraint for man, illustrated tutorial
Catís Paw, rope cuffs tutorial
Catís Paw for Ankles, rope restraints
Dragonfly Sleeve
Rope Shackle
Basic Wrap
Catís Paw for Ankles
Catís Paw illustrated tutorial