The keeper - illustrated bondage story, part 70
Free bondage photos blog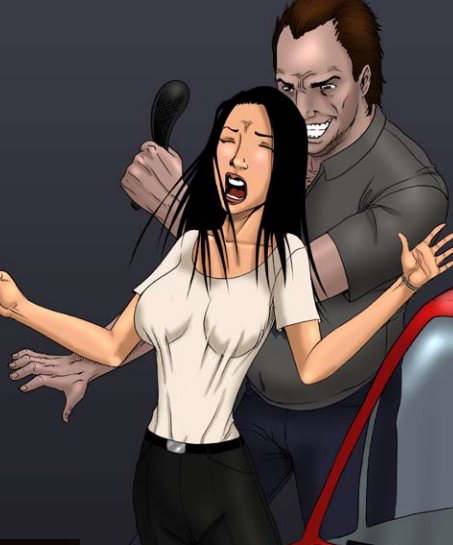 He watched the Amerasian carefully as she walked toward her car in the very rear of the Chinese buffet parking lot. By now he knew her movements very well.
The way her shapely, fve foot-two inch frame moved in the three inch highheel shoes. The way her lustrous black hair swung across her lovely straight back. The way her long legs strode in the dark, skintight polyester slacks all the teens were wearing. The way her round, frm, perfect breasts moved in the off-white, shortsleeved, French-cut, u-necked t-shirt—the kind all the sexy teen TV stars were wearing.
And the way her almond eyes shone in a face that was breathtakingly pleasing. The kind of innocent sweetness that only an unaffected Asian girl could project. Sure, he had gotten Melissa, Dana, and Barbara before they became cynical, sardonic, or world-wise, but this one, unbeknownst to him, had a protective family that promoted kindness, gentleness, and respect. Only they couldn't protect her on the short walk from the kitchen door to her car. After all, it was still daylight....
She stepped sideways and slipped between her car and the van that was parked on an angle, blocking her view of the kitchen and its view of everything except the rear of her car.
She bent down to put her key in the door lock. He moved out of the bushes, through the hole he had cut in the back fence, around the dumpster her car was parked in front of, and hit her on the head with the padded cosh.
She literally did not know what hit her, having not even seen him.
He grabbed her on the way down, his embrace mingling with her sigh.
Pausing just a split second just to make sure no one heard, saw, or knew, he wrapped his arms tighter under hers and dragged her back. Within seconds she was through the hole in the fence and into the bushes. Staring down into her angelic face, her breasts spreading and swelling in the deep u-neck, he nearly ejaculated right then and there.
A second later he had taped a drug-soaked pad over her mouth and nose. A second after that her hands were cuffed behind her and her ankles were taped. A few moments later she was in a drab olive duffel bag along with coils of cord, rolls of tape, and balls of cloth. He took a quick look at her driver's license, then threw her purse in after her. A second after that she was on the foor of his car, which was behind the supermarket which kitty-cornered the fence behind the restaurant she had stopped at.
He drove away a moment after that. Some minutes later he stopped at a cheap motel. Moments after that he was inside a small room with his "luggage." A second after that he had drawn the shades, closed the curtains, and turned on only the bathroom light. In the gloom, he dumped her out of the duffel, immediately cutting loose her legs and pulling off her shoes, pants, and pantyhose. Taking a second to admire her trim, black, silky snatch, fat stomach and wonderful hip bones, he tied her ankles wide to the bed legs, tied a rope through the handcuff links, and knotted it around her slim waist.
Kneeling over her, he pulled the drugged pad from her face, balled her pantyhose, and stuffed it in her lax mouth (feeling the wet warmth there). Rolling a thin, coarse motel handtowel around a cord, he stuffed it between her teeth, tying it deep in the orifce with the brutally tightened rope.
Then, taking only a moment to pull down the neckline of her shirt and the cups of her sheer, seamless, ivory-colored nylon/spandex bra, he grabbed her bulging breasts and climbed atop her.
A second later his cock was inside her. Moments later he was raping her in earnest. A second after that her eyes futtered. A second after that her eyes opened. A second after that she tried to sit up. A second after that she tried to bring her arms forward. A second after that she threw her head back and tried to scream.
gagged
bed bondage
bdsm stories
Similar bondage
Entertaining her laughing audience
Bringing home the bacon!
Corset, inflatable gag and blindfold
Chastity with plugs and shackles
Body harness suspension
Maid gagged in sluty outfit
Sister in tight little latex outfit
Addiction