Redhead slave bound to the big cross
Free bondage photos blog
She'd been inveigled into visiting a place that offered 'extreme sex'. She didn't know what that entailed, so being a curious cat, she decided to find out. "Nothing ventured, nothing gained" she thought, but what she 'gained' was not what she thought. Alas, humiliation, depravity, painful abuse, all of that and more was what she found out about, to her shame. She saw what happened to her friend, but still stayed, submitted to the indignity of enforced nudity, the degradation of wearing slave-collar, wrist and ankle cuffs. She'd been made to choose the instruments of captivity herself, so as to be bound shamefully to the big cross. She didn't demur when the master, stark naked, face hidden by a mask whilst brazenly flaunting an erection at her, stuffed panties into her mouth. She knew he'd soon push his cock in there, then between her legs, held open on that fiendish frame. It would be a long day. She feared most that he'd turn her round, take her up the butt, even though an anal virgin and just knew he would; she'd just watched him do it to her friend, right after she'd had to suck his big, thick cock . . .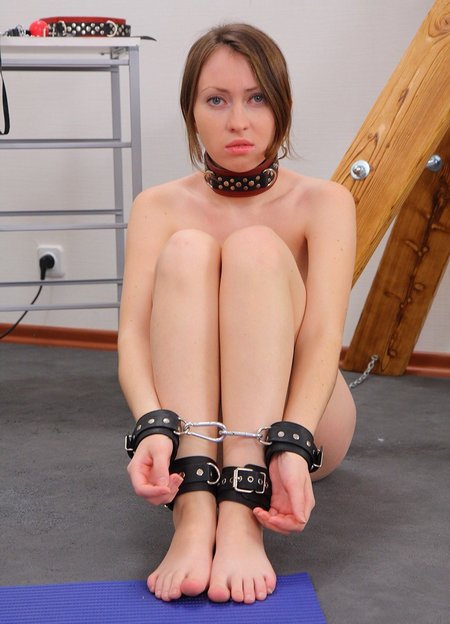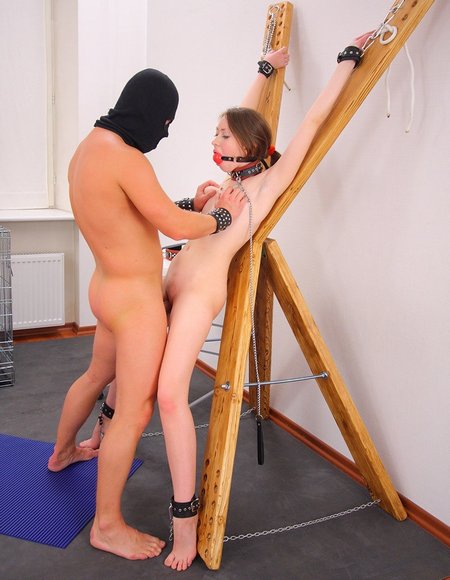 gagged
collar
punishment
slavegirl
bondage sex
Similar bondage
Entertaining her laughing audience
Bringing home the bacon!
Corset, inflatable gag and blindfold
Chastity with plugs and shackles
Body harness suspension
Maid gagged in sluty outfit
Sister in tight little latex outfit
Addiction