Rope bondage struggle in nylon photos
Free bondage photos blog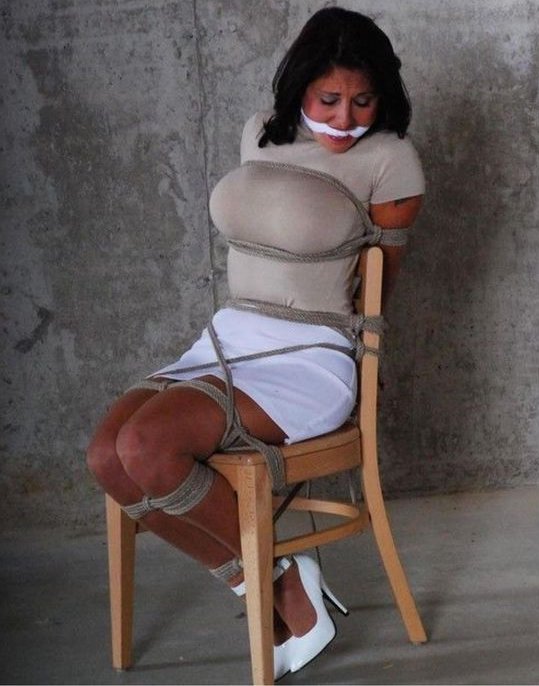 With the day off and my wife at work for the day, I decid to dress up and indulge in some self bondage. After doing my hair and makeup I put on my breast forms and bra. I pull on a short white skirt, a brown knit top, and a pair of white ankle strap high heel pumps. It takes quite some time but I tightly tie myself to a chair. My arms are still free and I knot a scarf and use it as a cleave gag. I then struggle to get my arms through rope coils and wiggle them up over my elbows. Then I reach for my wrist coils. I place one hand through, put the cinch rope over the coils, the squeeze my other wrist through. The cinch rope is tied to my ankles. I then kick and tug really hard and the cinch tightens up. My bondage now complete I struggle playfully against my bonds, a damsel in distress. I over exert myself a little so I relax and take in my situation, I am in heaven. I guess I must have dozed off. I was awakened when I hear a car pull into the garage. I look up at the clock and it is after 5pm, the usual time my wife gets home from work. I panic and try to slip my hands out of the wrist coils. Something is wrong, I cannot do it. I bought some new nylon braid rope to replace my nylon twist rope. It is not forgiving like the nylon twist rope. I struggle frantically but only succeed in tightening my wrist coils even more as I kick my legs around. I am stuck tight and completely helpless to do anything about it. My hearts stops as I hear her high heels coming towards me. The door knob turns, the door opens, and she walks in. She see's me and just stands there in stunned silence. Embarrassed I just look down and donít make eye contact. She seems to be at a loss for words and obviously so am I.
gagged
high heels bondage
Similar bondage
Entertaining her laughing audience
Bringing home the bacon!
Corset, inflatable gag and blindfold
Chastity with plugs and shackles
Body harness suspension
Maid gagged in sluty outfit
Sister in tight little latex outfit
Addiction