Legally binding contract - bondage photos
Free bondage photos blog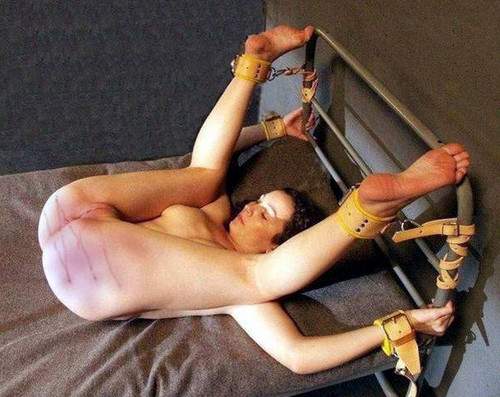 Thirty-seven year old billionaire heiress Victoria Devereux had the money, contacts, and time to indulge her darkest fetishes. She hired a highly paid professional dominatrix named Ms. Chang who was clever, perverted, devious, and willing to do anything for big money. Ms. Chang was shrewd enough to keep Victoria horny, teased, and craving for a full week before she had her lawyer join them both for the formal filing of the contract.
Dressed in a dark business suit, but shivering with unabated lust and need on the inside, Victoria drew up a contract that called for Ms. Chang to take full control of her body and finances, keeping her in bondage, seriously degraded, and begging for both 'sexual' release, and release from the contract.
It was very clearly spelled out that 'begging for release from the contract' was actually a specific goal of the abuse, and that Ms. Chang was, under NO CIRCUMSTANCES, to ever release Victoria from the contract. Ms. Chang would be compensated with ten million dollars per year, for each of the ten years of the contract. At the end of the contract, when Victoria is expected to be a drooling, nearly insane, lust-crazed forty-seven year old freak, Ms. Chang is to use half of Victoria's remaining wealth to arrange for her to become a degraded white sex slave in Southeast Asia. 'Vicky' is to then be used for the most outrageous and obscene purposes that a woman could possibly be used for. Ms. Chang will keep the remaining half of Victoria's former vast fortune as a retainer on condition that she monitor Victoria's slavery to assure the continuing severity of her extreme abuse and degradation for the rest of her life. Ms. Chang's lawyer licked his lips as he witnessed and notarized the contract, keeping the original for his files and providing notarized copies. He already knew that, in addition to his huge fee, he would be partaking of the 'bounty' of Ms. Devereux' degradation and virtual slavery, on a regular basis.
Victoria now spends a typical day tied on her back on a cot in a cell. She has a team of male and female abusers who tease her most sensitive sexual parts with stiff, pointy feathers, edging her back and forth all daylong. They allow her to crawl naked at the end of a leash twice each day for exercise, and to clean her up. They will tease her long into the night, bucking her hips in sex-crazed need and wiggling as if her bare ass were on a hot skillet. They will finally give her a sedative in order for her to fall asleep for a few hours, still tied and spread on her cot.
spread-eagled
bed bondage
whipped
spanking
Similar bondage
Strange device
Chained to a bed in his basement
Maid girl spread tied vibrated
Sister in tight little latex outfit
An Oath Fulfilled
Comanche slave
She found herself in tight latex and bound to the bed
Unwilling rubber slave