Free bondage stories - bound in leather


free rope bondage

Go to bondage stories page:



Bonds of Love, part 3
..."We'll have to get you a bib," Andy giggled before wiping her spittle off his chest and Sureerat glared full into his face with all the force she could muster but the effect was spoiled by the ball sticking out her mouth. However, Andy's wide grin and the warm laughter bubbling out his mouth like a hot spring was so infectious that Sureerat found herself giggling before laughing along with him. She had no idea how he did it. He always managed to make her laugh, no matter how embarrassing the situation. Her amusement escaped in explosive little gusts of laughter out the sides of the ball filling her mouth. Every time she so much as looked at Andy, it was enough to set her off again with an uncontrollable laughter that momentarily left her weak and drained before noticing the ache deep within her private bits...

Bonds of Love, part 4
...Sureerat knew that she had to go, leave Semarang, leave her house. They contained too many memories for her to deal or cope with. She could not sit by the pool without seeing Andy and his beautiful smile – or the mats she'd lain on whilst tightly bound and gagged. They reminded her of the blissful, halycon days she'd spent with Andy. She didn't know how to handle her conflicting emotions, her terribly raw grief or guilt. She missed being tied up so much – even thinking about being bound and gagged never failed to produce the familiar tingle deep within her body – but at the same time, she perversely, irrationally blamed her addiction to the ropes for losing Andy. It was better if she left so she could pick up what remained of her life. She hoped...

Bound In Leather, part 1
..."How about your daughter? Is she being brought up the same way?"

"Being brought up? She won't have it any other way. At times she insists on such severe treatment that we're afraid she will do herself permanent injury. But she just laughs, or would, if she could make a sound, and wants her gag and bonds pulled tighter."

"She sounds like a thoroughly delightful girl," I said, wistfully.

"Oh, she is, she just lives for bondage and figure training." She paused and I waited. This was the moment. "Would you like to meet her?" asked my pretty companion.

Restraining a strong, but I think natural, desire to yell "Yes!" at the top of my voice, I answered...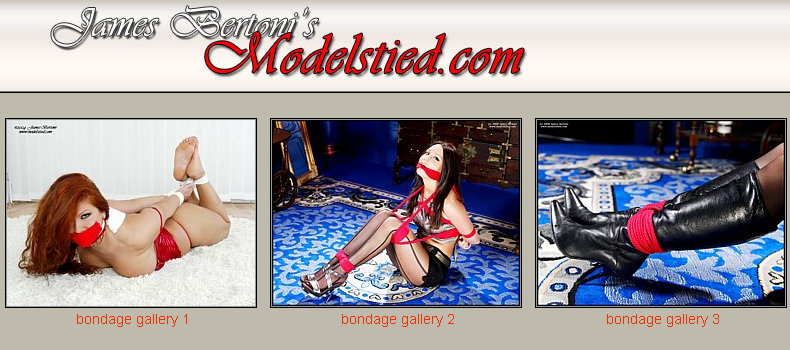 Bound In Leather, part 2
...Her mouth was almost wide open, and very tightly packed with a large pad of cloth, while the band that crossed the face and circled the head, keeping the pad in place, went between the parted teeth, and was obviously pulled very taut. The subject's wide open eyes, with a tear trembling in the corner of one, looked at the observer with a mixture of fright and desire that was extremely interesting. Another photograph nearby was just a pair of bound hands. Clearly, they were crossed and bound behind the owner's back; they were tightly gloved in glistening black kid, which contrasted very sharply with the almost white cord that imprisoned them. The cord, by the way, it sank into the flesh, was drawn very tightly. There was a tremendous sense of tension in the rigidly held, almost claw-like fingers...

Bound In Leather, part 3
... "Ooh!" she gasped softly, as the rope drew tight, "That feels wonderful, I can see I'm going to enjoy this, I love it."

I had considered tying her legs together, but decided I could make her more helpless and more uncomfortable by securing them another way. I tied a short rope to each pretty ankle, passed the ropes outside the front legs of the chair and back underneath to her gloved wrists. Pulling these short ropes very tight, I forced her legs wide apart in front then, bent steeply at the knees, with the toes well clear of the floor, back under the seat. Then I secured the ropes around her wrists.

"Have you ever done this sort of thing before?" asked Vicki.

"Well, once or twice and only in fun." I admitted...

Bound In Leather, part 4
...I continued lacing the helmet into place, smoothing the wrinkles as I did so.

The helmet was a beautiful piece of work, fitting the wearer's head like skin. The only openings in the front were the nostrils in the well shaped nose, so the wearer would have no difficulty in breathing. The neck part continued down in the form of quite a high, stiff collar, shaped to be higher in the front than in the back, for wearer to hold chin high. Finally, I got the lace pulled tight and tied the ends in a bow. There was still about an inch opening in the lace at the back, but I decided that that was intentional, just as many corsets are made to have a slight opening in the lacing, even when fully pulled in...

Bound In Leather, part 5
...The door opened. "Did mam'selle-ulb!" was all she managed to say as I slipped in back of her, grabbed her elbows and pinned them behind her, the chain between her wrists drawing taut and securing her hands. Nicki slapped the gag hard enough against her lips to make her open her mouth automatically. The egg was so big, she had to push hard to force it between her squirming victim's teeth. But she got it in and quickly drew the strap as tight as she could, stretching the corners of Fifi's mouth back in a sort of fixed grin. The expression on Fifi's face was a blend of surprise, pain and excitement. At a nod from Nicki, I forced the struggling French girl over to the table of bondage material. My silent companion selected a long strap and wound it a couple of times through Fifi's elbows and pulled it as tight as possible. Then she released the chain that ran from wrist-chain to collar, passed it under the maid's body and pulled it up and fastened it to the strap around her elbows...

Bound In Leather, part 6
...Then I unfastened the snap that held her skirt open in front; it closed, leaving her looking like any smartly dressed young lady, on her way to a late nightspot. There was no sign of the tiny waisted corset, the bound arms, the towering heeled boots or the tight gag. Telling her to wait a moment, I went out to the car and brought in a large brief case, into which I dumped the whole tray of bondage material that Fifi had brought in...

Bound In Leather, part 7
...It took a few minutes. Before long, she was once more in the floor length skirt and full-length gloves. Then, I bent her arms up behind her, so her hands, palm to palm, were between her shoulder blades. Next, I passed the straps over her shoulders, crossed them in front just below her neck, brought them around, crossed them in back again outside her arms and finally buckled them at her waist in front. Her arms were now held in a high double hammerlock, with her elbows only about six inches apart in the small of her back, the strained position making her pull her shoulders back, arch her spine and thrust her bosom forward delightfully...



Bound In Leather, part 8
...her master ordered from the table carrying the briefcases full of bondage supplies. With obvious unwillingness she crossed over to him. Dick passed a fist belt of chrome-plated steel around her waist, pulled it tight and snapped the catch in the back. From either side just over the hipbone, there hung a plated steel cuff, on the end of about eight inches of matching chain. In a second, the cuffs were snapped around her wrists.

He explained to me, "This is known as a Harem-Belt. Gives the wearer enough freedom to wait on somebody else, but it keeps her hands away from her mouth."

Then he turned to Fifi, who still held her skirt between her finger-' tips and ordered, "Go over and ask Mr. Ted to put that pear in your mouth." Obediently, but with obvious unwillingness, she minced over...