Free bondage stories - rope, ball-gag, leather


free rope bondage

Go to bondage stories page:



Isabel.Aprologue.
...She soon learned the sinful secrets and dreadful surprises of the bondage world . . . butt plugs and nipple clamps, the infinite variety of whips, paddles, canes and crops, thick leather and rubber, and the burn of the rope. She played the slave, the hooker, the mistress, the harem girl, the spy, the wayward wife and the bitch who needed a lesson, all with equal gusto...

Isabel, part1.
...The collar had a long strip of leather hanging from two rings on its sides. Once he buckled it around her neck, the curved strap hung down her back.

Finally, he placed a black mask over her eyes.

"Trick or treat," he said with an appreciative emphasis on the last word.

Isabel tested the height of the heels with an uncertain step, but Ron quickly picked up the strap hanging from her neck...

Isabel, part2.
...What did he have planned next? She found herself fantasizing about extreme situations...giant dildos rammed deep into her ass and her pussy...breasts bound with layers of rope...nipples in clamps...no, vices...with weights...then, the whips...all over...defenseless...in ecstasy...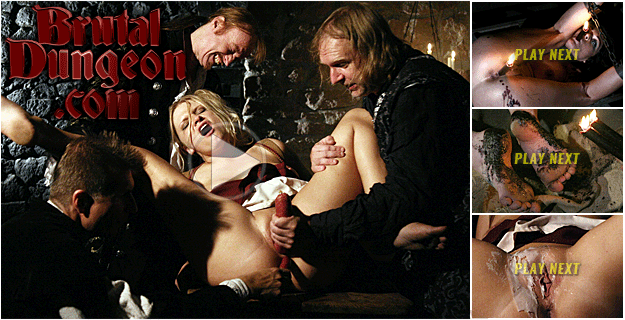 Isabel, part3.
...Her fears were confirmed minutes later as she swung naked several inches off the floor, her legs and arms held far apart by the unforgiving shafts and then stretched even further by the ropes attached to the thick restraints around her wrists and ankles. As usual, her mouth was filled with a wad of horrible-tasting rubber. Upon closer inspection with her tongue, she determined it was a replica of a very large penis...

Isabel, part4.
...She found her wrists shackled to her thighs with maybe 18 inches of criss-crossed chain links for slack. Her mouth was filled with a hard rubber ball zipped tight behind some kind of leather mask, and her hands were encased in leather mittens lacking even the benefit of thumbs.

Then she realized her whole body was wrapped in leather.

And she was lying in what looked like a large wicker basket on the floor...

Isabel, part5.
...She moaned involuntarily as he knotted the ends, and was rewarded with a ball gag jammed deep in her mouth.

Ron went to work on her legs, sealing them together with more rope around her ankles, a few loops just above and below her knees, and several yards for her thighs.

Isabel's heart began to race when he picked up another coil of rope from the table, pulled a length between his hands, and circled her ribcage just below her chest.

By the time he was finished, her breasts were crushed between an elaborate series of twists and knots...

Isabel, part6.
...Finally, a single cord was fastened to the middle of the rope around the top of her chest. It ran down the front of her body to her groin, only to take a sharp detour at her crotch. It angled up to the back of her head, where it was knotted to the strap holding the bright red ball gag in her mouth.

Holding her airborne was a pulley and a piece of rope that looked like a lopsided triangle. It passed underneath the big knot behind her shoulders, and then back to the rope connecting her wrists to her ankles. With her feet hanging higher than her head, Isabel imagined most of her weight was straining against the rope around her torso...




Strangers
...Marciana happily nodded and I returned her smile. My chest was so tight that it actually hurt as I studied her inexpressibly happy features. This was just so special being bound and gagged together with no chance of release or escape. Her eyes met mine with a mutual, shared empathy and she gurgled with pleasure before attempting to 'kiss' me...

The Student
...The red ball gleamed intimidatingly beneath the spotlights illuminating our bed. It could've been worse. Andrea might have picked the big one. The one she'd picked out was only an inch and a half in diameter but it was still plenty big enough. It's also equally secure; there's no way my gag's coming off once Andrea's finished strapping everything around my neck and head. It buckles up in five places – imagine that! I love being gagged as much as I hate it; does that sound strange? Perhaps it's that latent masochist in me. I absolutely, positively adore the feeling of fullness – and helplessness that a tight gag imparts – but it can become so uncomfortable after any length of time. It's an unequal contest that I invariably lose.

Andrea was waiting and I obediently opened wide to accept my gag. Gently, she pushed the ball home before fastening each strap in turn, securely clamping my jaws down on the ball that now filled my mouth. My gag was not tight but I wouldn't be saying much of anything for a while...

Sucker Bet
..."I tie you up, gag you then we'll catch the tram to Melbourne where we'll walk around the shops and Southbank by the river," Robert confidently replied. "We'll also have lunch at your favourite café before going home. I guarantee that nobody will see you bound and gagged."

"Impossible," she happily declared, convinced that he'd finally taken leave of his senses.

Robert continued as if he hadn't heard her, "If I win – and I will, believe me, then… you will pay a forfeit. Hmmm… let's see. No bondage for one week."...