Free bondage stories - harness, leather, gagged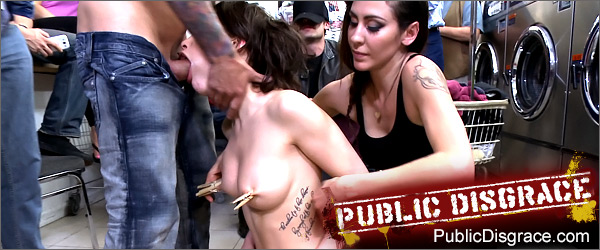 free rope bondage 1 2 3 4 5 6 7 8 9

10 11 12 13 14 15 16 17 18 19 20 21 22

Adventures of Suzy, part 1
...I had taken the handcuffs and ballgag that I kept in my car, (travelling essentials !!), and put them in my pocket as we left the car. I now took them from my pocket and quickly cuffed her wrists behind her, then gagged her buckling the leather strap tightly, forcing the 2" red ball behind her teeth. I took her over to the couch, so she was facing it and got her to kneel down on the floor and bend forward to rest her chest and head on the seats of the couch. Then kneeling behind her myself, I moved her knees apart and slid the crotch of her panties to the side. Within two minutes of us getting home Suzy was stripped to her lingerie, cuffed, ballgagged and being fucked from behind...

Adventures of Suzy, part 2
...I replied and put the camcorder on top of the TV, facing her and still recording. I got a 1" leather strap about 2' long plus a harness ballgag out of the sports bag. I lifted her T-shirt up and over her head and down to her wrists. While kissing her, I did the same with her white bra - I just love the topless & tied look !!. With her T-shirt and bra down by her handcuffs I wrapped the strap around her elbows and drew them together, not meeting but close enough to get a few grunts and moans followed by a "not too tight" from Suzy. With her elbows secure, I unlocked her right handcuff and removed her T-shirt and bra. Before locking it back on her wrist I twisted the cuff round and round until the link chain shrunk - even with a key there's no way out then as the cuffs are too close together. I checked the camcorder, still recording okay, and picked up the gag...

Adventures of Suzy, part 3
...When she had just them on, I blindfolded her and used rope to tie her in a tight spreadeagle on the bed. I played with her as usual, made sure I came myself and then got her favourite vibrator and brought her to one orgasm after another. I then teased her that I was going to a have a quick shower and leave her with the vibrator held in by her panties. I added a ballgag and left her squirming on the bed while I turned on the bathroom shower. I didn't have a shower and watched her come at least twice while I was in the bedroom. She was lost in her own little world !! Now for her real surprise. I packed her purse, toiletries and all her clothes, except the tight wool sweater, mini skirt and high heels she had worn on Saturday, into my bag, leaving her with just those and what she was wearing...


Adventures of Suzy, part 4
...About five or so minutes later Suzy came back downstairs to the lounge - she looked stunning !!. She was wearing black leather stiletto shoes, a black satin basque with red lace trim, holding up sheer black stockings. But what topped off her outfit was the harness ballgag strapped firmly around her face and that she had padlocked a pair of handcuffs to a chain which was snap-clipped to the D-ring at the top of the harness gag. This secured her wrists halfway up her back...

Adventures of Suzy, part 5
...I still had quite a bit of rope left, a couple of leather straps, half a roll of duct tape, the leather padded blindfold, a ballgag and a small vibrator. Plenty to keep Suzy, not to mention me, entertained for the afternoon!!

About ten minutes later Suzy re-appeared from her bedroom, and what a magnificent sight she made! Suzy was wearing a black half-cup bra, black high-cut panties, hold-up stockings and black leather high heels. As if not sexy enough already, she'd added a harness ballgag over the top of a leather blindfold and her hands looked as if they were tied behind her...

Working Late, part 1
...Unlocking the girls' wrists, she roughly bent her over the desk as she grabbed an arm binder from her pile of toys and roughly forced Nicole's arms in to the single rubber sheath. Once she had pulled the laces as tightly as she could, Nicole's elbows touched. The sheath had an integral collar, which was attached to the arm binder by thick leather straps. She fitted this roughly to the girls' neck, ensuring that the sheath would not work its way down Nicole's arms...

Working Late, part 2
...In contrast to this, the second customer had requested a much more modern look. Long blond hair, bright make up, rubber corset, short skirt, stockings and knee length boots would not, if for the choice of material, look out of place on any of the fashion dolls found in toy stores across the country. True, they might have to call the range "Barbie Turns Tricks" and Barbie dolls do not usually come complete with dildos fitted front and back. They also did not were ball gags, or posture collars, but overall she could imagine a young girl playing with a scaled down version of the order that had been placed.

The third customer was something different altogether. The doll was to be kitted out in a bright red, rubber cat suit. It was to have dildos inserted in ass and pussy. It would be pieced with painful body jewellery and wear a tight corset, full face rubber hood, with integral penis gag, long blond hair, tied in a pony tail, make up that would look too much on an inflatable sex doll and bound in to an impossible hog tie. Julie had, by this stage, seen numerous dolls in bondage and she still found it amazing to consider that men actually thought that, without years of gymnastics training, a woman could be bent in to some of these ludicrous positions...

A Dreary Afternoon
...She went back into the apartment to get even more rope. She took a piece about 6 feet long and made a huge round knot in the middle of it and then said, "Come on, open wide, you must be well gagged." With that she stuffed the knot between my teeth and wound the ends of the rope round my head tree times before tying them off at the back of my neck. The knot was bigger than any ball gag that I had ever had stuffed into my mouth. As she had promised, I really was "…well gagged."

I must be a slow learner for it was only then that I realised why she had taken me out on the balcony -there was a large steel ring set into the ceiling immediately above my head. She stood on a chair and hooked a pulley on to the ring. Then she a tied rope to my body harness between my shoulder blades, passed it over the pulley, looped it down again to my body harness at the waist then up again over the second wheel of the pulley. You can guess what came next - yes, she tugged on the rope and pulled me up off the floor. She pulled again and again until I was suspended about four feet in the air with my body dangling at an angle of 45 degrees. When she was satisfied with my position she tied the loose end of the rope round my ankles...



Switches
...I pulled Sara's hands behind her back and crossed her wrists before wrapping several turns of rope around them. I did the same to her ankles. It would have been nice to tie her knees and elbows too but I wanted her to realize how little rope was needed to totally restrain someone. My lesson required that Sara felt she could escape if only she worked hard enough at it. I knew better of course.

Once her hands and ankles had been tied and cinched, I used another short rope to pull her ankles up to her wrists. Again I didn't feel the need to make them meet. Loose enough to feel she wasn't tied to tight; but tight enough that she couldn't get free. That was my aim...

Where is Kelly's Key?
...I attach a 3' chain to a pair of handcuffs with a small padlock, and I use another padlock to secure the other end of the chain to the leg of my bed. The key to this lock is on Brandie's collar, while the key to my handcuffs is in the other bedroom on the floor.

Nothing would be complete without my gag. I insert an inflatable penis gag, keeping it in place with another padlock. I pumped it pretty good. I can feel it totally filling my mouth up, but leaving a little bit off room so I don't accidentally choke on it.

Kneeling, on the floor, I bring both my arms behind my back and secure the handcuffs around my wrists. Now I wait for my fantasy to take over...