Free bondage stories - girls in leather, painful tied, gagged


free rope bondage

Go to bondage stories page:



Almost Chance
...She could see Mistress walking down to the bottom of the bed, wrapping the silk straps around her ankles and then fixing her legs in an open position, finally leaving Jen in an 'X' on the bed, stretched out but with just enough slack in the straps to move slightly and relieve the strain on her body when it was needed. She could see Mistress standing at the end of the bed, leaning on the iron frame as she looked over her, smiling wickedly...

Bind of the Magi
...Mary stretched her mouth open wide as she could. Carol slid the gag inside, then used her fingers to begin tucking the cheek flaps into her mouth, first on the left side, then on the right, grunting and giggling a little as she stretched Mary's lips to cover it. With all the pieces firmly tucked into place, she looked down into Mary's eyes as she began slowly squeezing the inflation bulb. Carol watched the surprise and delight on Mary's face as her cheeks began to bulge tighter and tighter as the inside of the gag swelled, filling her mouth completely...

Joanne's Story, part 1
...Her early favourite was what I called my 'rape tie'. I would tie her wrists crossed behind her back, then running a doubled-over rope across the back of her neck, I would take the ends under her armpits and round behind her shoulders to make a quick shoulder harness. Using more rope I would then pull her wrists up her back and tie them off to the harness, keeping her hands well out reach for when I groped her breasts, arse and pussy. Next, I would tie her ankles to her thighs, rendering her completely defenceless and immobile. Now helpless, I would 'rape' her by fucking her hard and fast from the rear, until I came. Then I would make her suck my cock clean, getting it hard again, so I could fuck her again. Jo always climaxed loudly during this second fuck, as needless to say I did too...





Joanne's Story ,part 2
...As well as thanking her for the 'present' I gave her a bit of a lecture about not having a "safety", in that I may not have come straight home, or worse. I know we've all done it, but that doesn't make it any safer, and I explained she was too precious to get hurt if something went wrong. I therefore informed Jo that a suitable punishment was in order. I replaced her ring-gag with a large ballgag, added a padded leather blindfold and made her much less comfortable by binding her elbows together with a long leather strap. Then rolling her onto her side, towards me, I eased her protests by fingering her to orgasm...

Roped in to Entertain
...This time the strokes were slow, measured and powerful, perhaps this was Geoff. I just wanted to stop for a while but my traitorous body started twitching in response to the quim trembling attention. Then there was some faltering in the rhythm and that cold finger was at my bum hole again. There were some hurried comments between the men and the prick in my pussy twisted erotically to one side, immediately after which hands were at my waist and another cock was nudging my bum. It forced its way in slowly whilst I tried to scream into the gag, to no avail; I merely hurt my throat. Soon the two cocks were working in rhythm, in and out alternately so there was always one thrusting into me. My pussy could feel the one in my bum and vice-versa, it felt as if a mechanical double dildo was reaming me out...




Initiation of Sophie ,part 1
...No one but the freshmen would even think of giggling at such a ceremony. This was a serious tradition. Sophie heard one of the girl's giggles followed five minutes later by the stripping of clothes and a furious whipping. The girl of laughter would have cried out if not for the fully-pumped inflatable gag. Sophie knew what the gag felt like---she had yet to know the whippings so intimately. There were no subsequent giggles. Only two more layers of liquid latex spread onto Sophie's body, then the actual black catsuit...

Initiation of Sophie ,part 2
...Vicki turned. "You know, that sobbing might be a real turn-off for some guys." Vicki quickly found some duct-tape sitting on a wooden shelf. "Although, I like the crying personally." She leaned down to Sophie's ass and slowly withdrew the acorn-shaped plug. From Sophie's perspective, moving the plug backwards was even more painful than the initial entry of the plastic intruder. A slight "pop" was made when Vicki finally got the plug past the anal ring. Despite the thorough cleaning that Tia and Kia had administered the night before, there was some shit on the plug itself. Sophie saw and smelled it as Vicki brought the anal stopper around to the freshman's mouth. Sophie's instinct was to turn away. Vicki had handled this before. She simply pinched Sophie's nose closed for a several painful seconds and waited for the mouth to open. When Sophie's mouth made the move for precious inhalation, the girl was greeted with the black and brown buttplug. Three inches wide, and four inches long, this plug made for an extremely painful gag. Vicki completed the gag by applying a dozen strips of duct-tape over Sophie's mouth. Tears were pouring down Sophie's cheeks as one by one, Vicki tore off additional strips to secure the huge gag...

Sylvia submits
...Slowly she opened her mouth, letting Kim insert the gag. Kim lifted her head to secure the strap. Then she released her right arm from the bench, quickly moving to secure it to one of the rings on her collar. The left arm followed soon after before Kim released her legs. As Kim tugged on her leash, Sylvia climbed off the table. Kim led her to a leather covered horse.

"Spread your legs," she said to Sylvia, kneeling to secure her legs to the horse's legs. "Do I need to secure your arms to or are you going to take your paddling like an obedient little slave?"...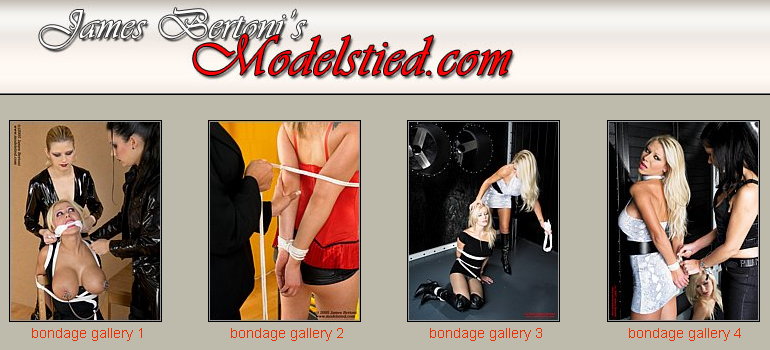 A Second Childhood bondage story | keys, bed, ball gag
The quiet daily routine of an old pensioner is rudely interrupted when his young, attractive neighbour asks him to bail her out of a self-inflicted predicament
A Knotty Solution free bondage story | knot, ground tied, bound
A self-taught tracker makes a shocking discovery one quiet day out in the woods